Last week we put a call out in the Friends of Acadia E-News and on social media for stories of love from, and inspired by, Acadia National Park. Here are some of our favorites:
Acadia National Park is a very special place for my husband and I. We live in Lincoln, Rhode Island, but my mother and her family are from Maine so I grew up visiting every summer and was so excited to share the park with my husband when we met. The park quickly became one of our favorite places to visit together and when he proposed to me in 2017 we knew there would be no other place to get married than the summit of Cadillac Mountain. We got married on October 13, 2018. Our first look took place at sunrise and the pictures still take my breath away.
–Jenna and Jon, RI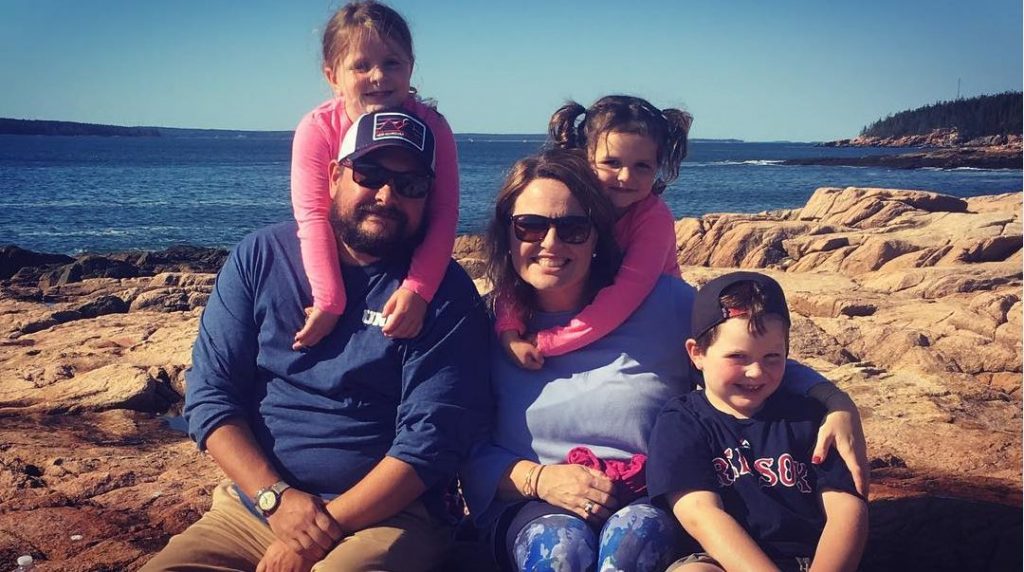 Acadia has always had a special place in our hearts. We have a family home on Goose Cove that's seen several generations and created a fondness of the park for us all (young and old). My grandparents, who lived in Philadelphia, honeymooned on the island in the early 1940's and spent subsequent summers making the long trek with their 3 children back to the park every year. My Dad (one of those 3) moved to NH from PA after college, met my Mom and they had 3 children of their own. We traveled to Acadia every summer and my brothers and I have fond memories of the hikes and swims and exploring that we did year after year. We even became proud 'junior rangers' one summer. When I started dating my now husband, he quickly learned of my fondness for the park and has grown to love it as much as I do. On December 2, 2016, he proposed at sunset on the rocks of Goose Cove. We were married a year later and now have three children (8, 6, 4) who have yet to miss a summer. Our youngest daughter, Harper, bears the middle name Acadia – honoring a place that has such special meaning for us. I turned 40 this year and have never in my life missed a summer in Acadia. I hope that my kids will say the same well into their adult years. Watching their love and excitement for a place that means so much to me only intensifies my own adoration for the marvel and wonder that is Acadia National Park.
–Carey, NH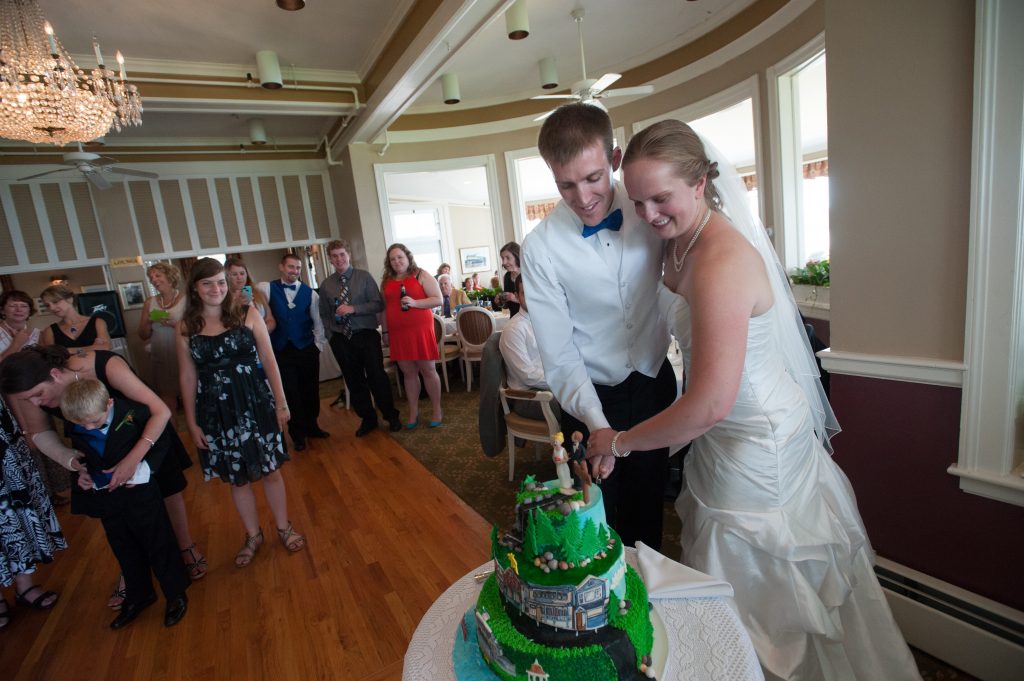 Photo: Mark McCall
Here's a true Acadia love story. Six weeks after the birth of our daughter, Libby, in 1988, we introduced her to Acadia. We continued to go every year. When Libby was in high school, she met Aaron who became her first real boyfriend. She said to us at the time that Aaron better like Acadia or that was that! He loved it from his first visit and they, too, camp there every year. New Year's Eve, 2012, Aaron proposed to Libby on the sandbar out to Bar Island. In August 2014, they were married on the lawn at the Bar Harbor Inn. The tables, not numbered, were assigned using small replicas of the summit signs of the hiking peaks in Acadia. Their tiered cake was not traditional, either. At the lowest tier was the ocean, the Porcupines, and the Bar Harbor Inn. As the cake rose, you saw Main Street shops and Geddy's (a favorite restaurant) with the moose on top. Then came carriage paths and the winding road flanked by Rockefeller's "teeth" to the top of Cadillac where the miniature bride and groom stood at the summit. It was a unique and magical wedding. Aaron and Libby continue to camp and hike at Acadia every year. Some years we go together. Acadia is our favorite playground for so many activities and every year we learn more of her secrets. Love, in all its forms, lives there.
–Gail and Marvin, NH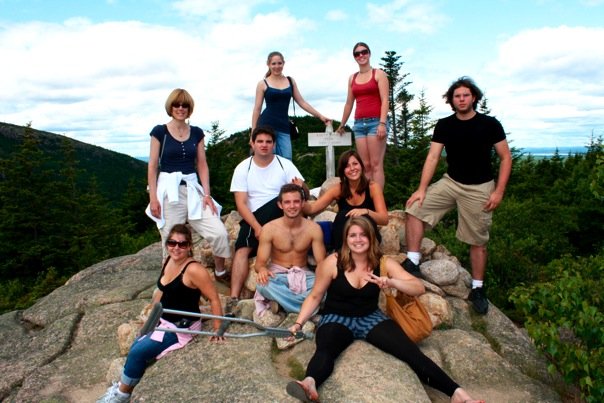 Oh, Acadia…My children's bonds with their cousins were forged on your mountain peaks. Our family joys and sadness have been shared on a shady deck in your cool northern breezes for 20 years. Our Generations, (Nana and Papa, their children, their children's children, and their children's children's children) all hike, and bike, and stroll, and laugh together in packs or in pairs for one blissful week in the summer in Acadia National Park. We come from Massachusetts, North Carolina, New Jersey, and Maryland like salmon swimming upstream, against the current of crazy busy lives to rest on your rocky coast. Thank you, Friends of Acadia, for all you do to provide this backdrop to our lives. I cannot tell you in words what it has meant to us, but for lack of a more eloquent phrase, it has meant the world!
–Carol, MA
Well, here is my story. Last October, I was eating breakfast at Jordan's, sitting at the counter, as I was alone and wanted to leave booths and tables to others. A youngish married couple soon sat in vacated seats next to me, and we struck up a conversation. As it happens, they were also from Dover, NH, to which I had just moved. They were there that weekend to participate in the running event, which they had just completed, but love Acadia, and go as often as they can. During breakfast, I received a call about my mother. They could not help overhearing my side of the conversation and catching the somber mood. Once I hung up, they insisted upon paying for my breakfast.
So, this is a story about at least three loves: their love for each other, for Acadia National Park, and for a complete stranger, who was alone and going through a difficult time.
–Sara, NH
My wife Cindy and I met on top of Cadillac Mountain 40 years ago. Cindy was the manager of the Cadillac gift shop (the old cool building with the fireplace!) and I was the park minister and worked at the Pond House the year it burned to the ground. I had applied to serve at a park out west and was surprised to be sent to someplace called Acadia that I had never heard of. Little did I know that it would be the place that captured my heart!
My first service was a sunset service on the top of Cadillac. I was kind of dreading it because I realized that I was not cut out for the ministry. Then this beautiful young woman and her friend show up for the service. I thought, hmmm, maybe this job isn't going to be so bad after all! It turned out that we were both living at the Harborside Inn and became fast friends. I left for the Peace Corp that summer and when I returned, we started to date. We have returned year after year as newlyweds, a family and, I guess now the kids would call us, nearly-deads. We returned almost every summer camping at the Mt Desert Campground, renting vacation places all over the quiet side and dreaming of owning a home on the Island. We were fortunate to find a little house on Fernald Point Road in Southwest Harbor in 2016 where we plan to spend the better part of the year hiking, kayaking and enjoying family and friends.
Oh, and one more love story…our three kids love Acadia so much that my oldest child named her daughter Emily ACADIA Muhlenkamp.
–Gavin, PA
Back in 1991, my husband and I spent our honeymoon at some B&Bs in New England. The highlight was our time in Acadia, since I had spent many happy summer vacations there. We stayed at the Cleftstone Inn. My twin sister and her husband got married in a double ceremony with us and also headed to New England. We overlapped in Acadia and took the same sunset cruise two days apart. We always wondered whether the sailors became confused and befuddled when they saw two very similar looking young ladies cruising with very different young males.
–Nancy, NC