By Carol Potter, Friends of Acadia Finance and Development Assistant
Acadia is a place to create memories that last a lifetime. It can also be said that Acadia is a place to honor a life well lived.
Saying good-bye to a loved one who has died is one of most difficult journeys that we must take. It is a common experience that binds us together as human beings. A big component of dealing with such a loss is how to lay our loved ones to rest and hopefully, in the process, find a sense of peace and closure. I was faced with just such a decision nearly nine years ago, when my husband, Don, died suddenly in his sleep at 54.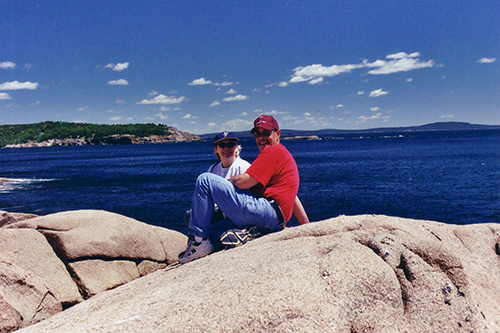 Although I was totally unprepared to lose my husband, the two things I DID know were that he wanted to be cremated, and that he wanted his ashes to be scattered in Acadia. I was so thankful that we had those conversations. Knowing his wishes gave me comfort that, when it came to his "final" resting place, I knew what to do.
It was not until two years after his death that his three children, their spouses, his two grandchildren (there are now six!), my sister and her husband, and a dear friend gathered together in Acadia to scatter his ashes.
Scattering human or animal ashes in Acadia–and other National Parks and Monuments—is perfectly legal and welcomed by the National Park Service but does require a special use permit. With a little advance planning you can make arrangements to honor your loved one in a beautiful and meaningful way.   For Acadia, begin by visiting the park's website.  Follow the link to the "Special Use Permit" form, download the form, complete and return it to the appropriate address. There is no charge to secure a permit for the purpose of scattering ashes. Seven years ago, when I submitted my form to the Acadia administrative offices it took about four weeks for my approved form to be returned.
When completing the form, you will need to indicate the location where you intend to scatter the ashes, how many people will be in attendance, and what, if any, special accommodations you will require.  Initially, when I completed the form, I had indicated that we would be scattering Don's ashes at Wonderland, as that was one of his favorite hikes in the park. However, when we arrived in June of 2009, it had been a very wet spring, and the trail to Wonderland was wet and muddy. The forecast for the weekend (which happened to be Father's Day), was rain, rain, and more rain. It also turned out that both of my stepdaughters as well as my stepson's wife were pregnant, so I did not think that a slog through the mud and rain was the best strategy. At the time, I was very distraught about what to do, but thankfully my good friend Ann took charge and called the park office. To this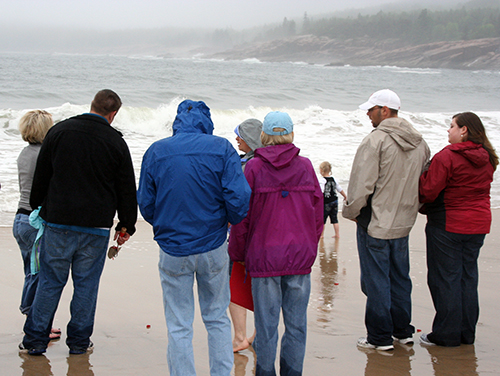 day, I do not know whom she spoke to, but chances are that it was someone I now know! We inquired about changing the location to Sand Beach, and were told that because we had a permit, yes, we could change the location. However, we could not simply scatter the ashes on the beach, but would need to release them into the surf. It was such a relief to discover that the park was flexible and willing to accommodate our needs.
So on a very rainy, chilly day in June of 2009, twelve souls gathered to release what remained of Donald Edward Potter into the surf at Sand Beach in his beloved Acadia. We said a few words, read poems fitting the occasion, and said goodbye as tears joined the rain and surf spray on our faces.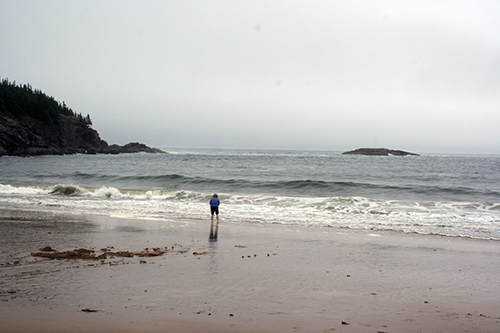 If you are considering scattering the ashes of a loved one in Acadia, make the occasion more special and less stressful by pre-planning.  Some people have the philosophy of just "do it," but for me part of honoring Don and his love for this place is respecting the rules of the park, because doing so is part of preserving and protecting this very special place that he loved so much.
The day after we released Don's ashes at Sand Beach, the surf was huge, and Thunder Hole was, well, "thundering." In all the years of visiting Acadia together, Don and I had never seen Thunder Hole do anything more than gurgle (and I have HOURS of his videos to prove it). I couldn't help but wonder, as we watched and heard the waves crash and the thunder roll, if just a little bit of Don was in that surf.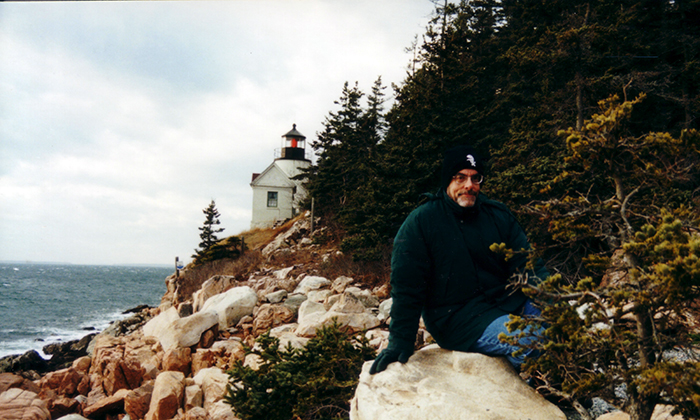 Carol returned to MDI in 2012 for a year and spent her time blogging, hiking, and rediscovering life.  She recounts her journey through loss and recovery in her book "Moments of Panic, Moments of Peace," available on Amazon. She made the "permanent" move to MDI in April of 2015, and is now a year-round staff member at Friends of Acadia.