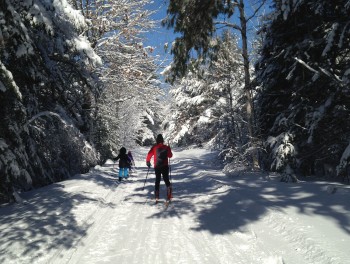 Jump down to grooming status »
The pristine crushed-stone surfaces of Acadia's carriage roads make them ideal for cross-country skiing in wintertime. Add the park's spectacular scenery and trail grooming by the volunteers of the Acadia Winter Trails Association, and it's no wonder that skiing is a highlight of the season for many area residents and winter visitors alike.
Started in the late 1980s as a personal mission of several local ski enthusiasts, the Acadia Winter Trails Association (AWTA) formally partnered with Friends of Acadia and Acadia National Park in 1990. FOA began providing regular financial and fundraising assistance to the loyal groomers, and the park added maintenance and other support. Gradually, homemade grooming rigs (bed springs and cinder blocks) were replaced with specialized equipment.
In 2005, the family of Elizabeth R. (Leila) Bright established an equipment fund and an endowment in Leila's memory and in honor of her love for skiing in Acadia. These provide annual grants to underwrite the purchase and maintenance of grooming equipment, safety training and equipment, fuel, volunteer and staff training and support, and other annual and capital needs of cross-country trail grooming in the park, supporting grooming activities in perpetuity.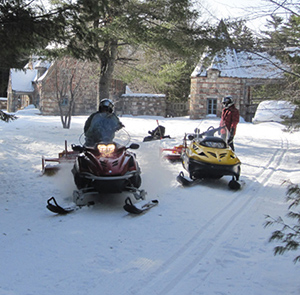 With the additional equipment and program support, an expanded cadre of volunteers has been able to groom more ski routes—including the Aunt Betty's Pond, Around Mountain, and Witch Hole carriage roads—sooner, taking full advantage of Mount Desert Island's unpredictable snow season. Two teams of volunteers now operate from bases at the Hulls Cover Visitor Center and the Brown Mountain Gatehouse, setting tracks for classic and skate-style cross country skiing on routes established in the grooming agreement with the park. See the below map for route details. The volunteers typically log hundreds of hours per season keeping Acadia's carriage roads primed for skiers.
Although the Bright Endowment provides significant long-term stability for the Acadia Winter Trails Association, it does not currently cover the entire cost of the program or allow for extra fuel costs (whether due to higher gas prices or wicked snowy winters!). To help support this program, contact Lisa Horsch Clark at 207-288-3340, or donate online now.
Interested in skiing on the multi-use trails at Schoodic? Click here »

GROOMING STATUS
When available, two sets of volunteer groomers may maintain cross-country ski routes if new snow exceeds six inches and the road bed is frozen. The routes listed below are in priority order for each set of groomers. Visitors are asked to keep in mind that the Acadia Winter Trails Association is a volunteer committee; grooming is done at times that are both convenient and safe for our volunteers.
While groomers generally follow these routes, as illustrated on the map below, some areas within the routes listed may not be groomed. The information on this page is accurate to the best of our knowledge; conditions may change between the time the routes are groomed and the information is posted. In addition, this page may not be updated on weekends.
You can help us keep information current. If you are out skiing and notice that conditions are different from what is listed here, please post to our Facebook page or (if it's a weekday) contact us at 207-288-3340 or info@friendsofacadia.org. We also try to post status updates to Twitter. Use the social media hashtag #SkiAcadia when posting or searching for information.
Friday, February 17, 2017:
Brown Mountain area: the Hadlock Loop and the Amphitheater Loop were groomed Thursday for classic and skate skiing. The Parkman Connector was packed on Friday.
Hulls Cove area: Witch Hole Loop (minus the Paradise Hill section) and the Eagle Lake Connector were groomed Friday afternoon for classic and skate skiing. One pass was made around Aunt Betty Pond loop to pack snow, with big drifts on the Eagle Lake West section. Happy skiing!
Note that the below sections were groomed on 2/11, but have fresh snow on them now.
Upper Around Mountain: Packed
Jordan Pond Connector: Packed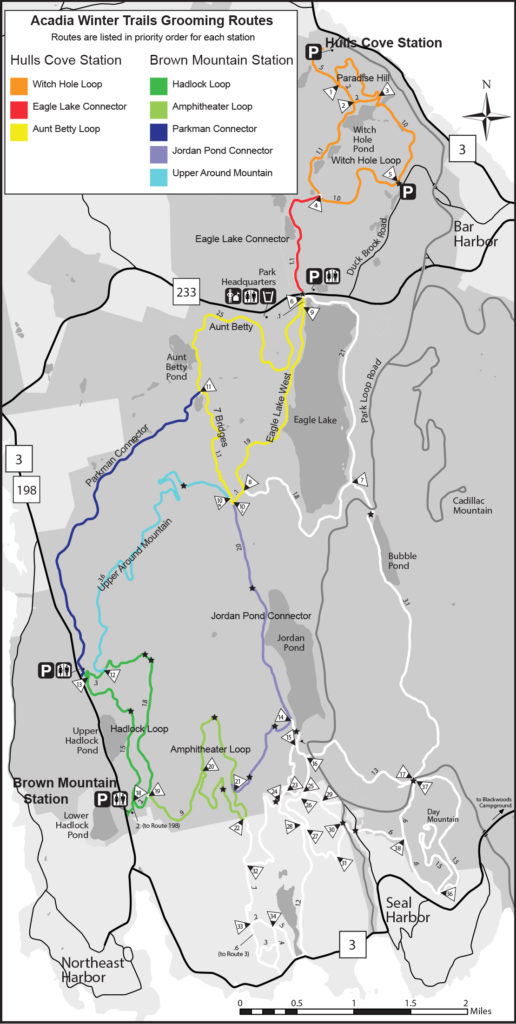 How You Can Help
If you enjoy skiing in Acadia National Park, please support the winter trails equipment fund with an online donation. Include "AWTA" in the comments field when you make your gift. Thank you!
Skiing at Schoodic
Following the construction of new multi-use trails at the Schoodic District of Acadia, there has been interest in using those trails for cross-country skiing. There is not currently a grooming program at Schoodic; however, skiers are encouraged to break trails and share information about conditions on Facebook or Twitter. Use the hashtag #SkiAcadiaSchoodic when posting or searching for information specific to the Schoodic trails.
A map of the Schoodic trails can be found on the park's website.
Note that FOA and the park are in conversations about expanding the AWTA grooming program to Schoodic. There are multiple pieces to that puzzle that will need to be in place so there is not yet a target date for the expansion. Stay tuned.