Acadia Week 2021 Livestream
---
Day 5: Friday, July 9
Friends of Acadia's annual #AcadiaWeek is Monday, July 5 – Friday, July 9. Join us for live broadcasts daily from the Bar Harbor Inn each day from Noon to 12:30 p.m. to help celebrate the founding of our beloved park.
Special guests this year include Park Superintendent Kevin Schneider with an update on the state of the park; Brian Henkel of the Friends of Acadia's Wild Acadia initiative and Keith Johnston, Acadia National Park Facilities Manager, re: the June storm event and carriage road closures; and a visit from Benjamin Bell, the eight-year-old who hiked every peak in Acadia when summer camp was cancelled. And more!
See the full Acadia Week program schedule below and watch live on Facebook.
Join the Acadia Week Challenge
Friends of Acadia Board Member, Julie Banzhaf-Stone, and her husband Steve Stone, have committed to a 1:1 match on all donations for Acadia Week until we reach $20,000! By donating, you can help us reach our goal of raising $40,000 for the park during Acadia Week. The campaign will run until Friday, July 9, or until we reach $20,000 whichever comes first! Stay tuned, we'll send out a donation link July 1.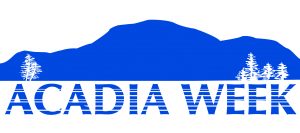 Acadia Week 2021 Schedule
July 5-9, 2021
Noon to 12:30 p.m.
Watch our Live Stream on Facebook
& the FOA Website
ACADIA WEEK CO-HOSTS:
Earl Brechlin, Local Author, Registered Maine Guide, & Former Friends of Acadia Communications Director
Julie Banzaf-Stone, Friends of Acadia Board Member
GUEST SCHEDULE:
Monday, July 5, Noon
Benjamin Ball—This eight-year-old spent the summer hiking every mountain in Acadia!
Brian Henkel, Wild Acadia Project Coordinator, and Keith Johnston, Acadia National Park Facilities Manager, re: June's storm event and the carriage road closures. What happened? Can we expect more of this in the future?
Tuesday, July 6, Noon
David MacDonald, President & CEO Friends of Acadia and President of the Steering Committee of the National Friends Alliance – update on Friends of Acadia's work to help the park address challenges such as climate change, housing, and over visitation, which are  some of the same issues facing other national parks. Plus updates on the visit from the US Secretary of Interior, cellist Yo-Yo Ma & more!
Adam Gibson, Social Scientist at National Park Service, and Becca Stanley, Friends of Acadia Recreation Technician re: social science in the park, visitation statistics and current research projects happening in the park.
Wednesday, July 7, Noon & 4 p.m.
Noon: Live hike with Friends of Acadia seasonal Summit Stewards and Acadia Digital Media Team
4:00 p.m.: Friends of Acadia Annual Meeting live stream here
Thursday, July 8, Noon
Marisa Marinelli, Senior Development Officer for Major Gifts & Events, on the 2021 Annual Benefit – what's in store for this year's virtual benefit auction & paddle raise – with a LIVE drawing giveaway for gift bag when you register!
Mike Madell, Deputy Superintendent Acadia National Park—Mike is retiring this year and shares his perspective on helping a national park survive and thrive during some challenging times.
Friday, July 9, Noon
Kevin Schneider, Acadia National Park Superintendent, re: the state of the park, the U.S. Secretary's visit, and current challenges, as well as more details on the 2021 paddle raise
Jack Kelley, Friends of Acadia Board of Directors – Get to know FOA's New Board Chair and hear his vision for FOA's work moving forward