FOA Tribute Cards
There are many special occasions to celebrate someone special in your life. Send a complimentary e-card today and share the love no matter what the occasion. To select from one of our many downloadable gift cards below. Click on the card of your choice, save the image for printing or to email to your gift recipient.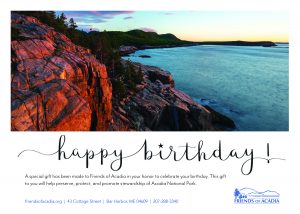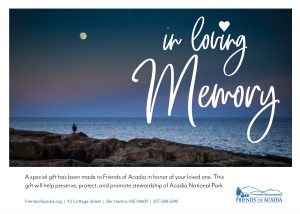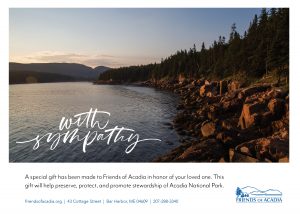 Want to show your Acadia love and make a donation, click HERE!?
With this gift, you are helping Friends of Acadia to work together with Acadia National Park to protect the landscapes and experiences that have inspired generations of visitors and to engage people of all ages in taking care of the park. FOA's robust volunteer program, innovative youth programs and the fare-free Island Explorer bus system are just a few of the ways they preserve Acadia today and make certain it will be protected well into the future. Thank you for supporting Friends of Acadia!