You can be a Friend of Acadia
The first US national park created entirely by private donations of land, Acadia today is protected and enriched by the members, donors, and volunteers of Friends of Acadia. From the cobblestone beaches to the spectacular night skies, and on every inch of the historic hiking trails and carriage roads—all of Friends of Acadia's accomplishments start with the dedication of members and donors like you.
Join or Renew your Membership »
More Ways to Give
Give a Gift in Honor or Memory »
Contribute Stock and Appreciated Assets »
Friends of Acadia Annual Benefit Auction »
Friends of Acadia respects the privacy of its donors and does not disclose, sell, or exchange donor information to or with any person or any other entity unless required by law. We will, however, list donor names in the recognition rolls of the annual report and in a limited number of our other publications, unless a donor has chosen to make a gift anonymously. Please see our privacy policy.

Why Join Friends of Acadia?
"Acadia would not be as great a park as it is without Friends of Acadia." –Former Acadia National Park Superintendent Sheridan Steele
Learn more about Friends of Acadia »
Membership Benefits
The best benefit of Friends of Acadia membership is the satisfaction of helping to preserve Acadia for current and future generations. In addition, all members receive a subscription to the Friends of Acadia Journal, published three times annually; a "Friends of Acadia Member" decal; invitations to annual events; and a complimentary one-year subscription to Chimani Perks.

Giving by Mail or Phone
Friends of Acadia
P.O. Box 45
Bar Harbor, Maine 04609, USA
(800) 625-0321
Print-and-mail membership form »
Our Efficiency
For the 8th year in a row, Friends of Acadia has been recognized by Charity Navigator with their four-star rating. Charity Navigator, the nation's largest and most-utilized evaluator of charities, examines two broad areas of a charity's performance—financial health and accountability & transparency. To view our Charity Navigator listing and to learn more, visit Charity Navigator.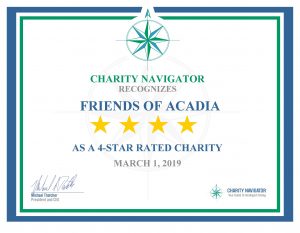 Friends of Acadia is registered to raise funds in all states that require charitable registration. See CHARITABLE REGISTRATION DISCLOSURES for states such as Florida that require us to list their disclosure language statements.