By Jenn Brandt and Howard Solomon
As each new summer season begins, Friends of Acadia stewardship volunteers—both experienced and new recruits—flock to Park Headquarters to head out into Acadia for a day of work and fun. Besides brushing back overgrown trails, clearing out drainage ditches, and digging out and graveling new trails, this enthusiastic group of volunteers also comprises the award-winning Friends of Acadia Imprecision Drill Team. For both the 4th of July parade in Bar Harbor and the Flamingo Festival parade on the Quietside, this hearty group marches and chants while wielding the tools of our trade: rakes, shovels, pole saws, and wheelbarrows.
As our name suggests, the routines are often imprecise, but it doesn't matter because our obvious enthusiasm for the park and volunteering are what makes the crowd cheer for more! After all, how could you resist a leading row of wheelbarrows performing figure eights? You gotta love our team member pulling up the rear with his homemade drum strapped on tightly, drumsticks tapping out the beat for our routines. A crowd favorite is a move we call "love." When our fearless leader, Bucky, gives the signal, we disperse into the crowd shaking hands, thanking people for coming to the parade, and telling them how fun it is to volunteer in the park. Something about this actual contact with spectators is always a hit.
Last year, while marching down Clark Point Road in the Flamingo parade, a wheel fell off of one of the wheelbarrows. There was an audible gasp from the crowd and a few team memberss ran forward and tried to fix it. With the parade now at a halt and quickly backing up behind us, a couple of fast-acting volunteers threw the wheel into the barrow, picked up the whole lot, and carried it for the final stretch. We always do whatever it takes to get the job done! The crowd went wild and another story was added to the books, to laugh about each year when parade season rolls around.
The crowd gets that this group of mostly AARP-card-carrying volunteers loves what we do to give back to the park. Loud chants of "here come the volunteers" and "thank you volunteers" are truly inspirational. Plus, our esprit de corps is clearly apparent, and parade watchers can see what a good time we are having!
The Imprecision Drill Team was formed in the l980s with about 12 volunteers. The idea was based upon observations of faux military-type drill teams that marched in Washington DC parades. One such group of "lawyers" walked while opening and closing briefcases. Another drill team flipped lawn chairs as they went. Last year some 30 Imprecision Drill Team members proudly marched down the streets of Bar Harbor on July 4th.
We hope that you'll consider joining a group of fun-loving people who share a passion for Acadia National Park. Every Tuesday, Thursday, and Saturday throughout the summer, you'll find us at 8:15 am under the tree at Park Headquarters awaiting our assignments and catching up with friends. And, we're happy to report, that for this year's parades we have refurbished and freshly painted wheelbarrows—if you're watching the parade, please cheer us on!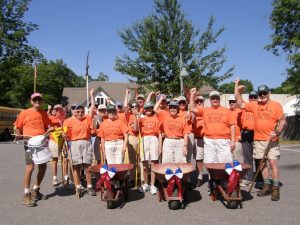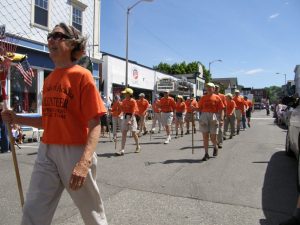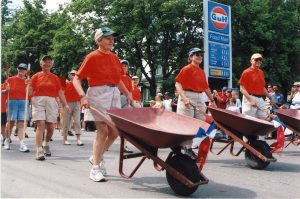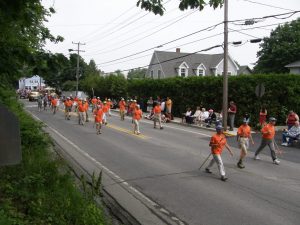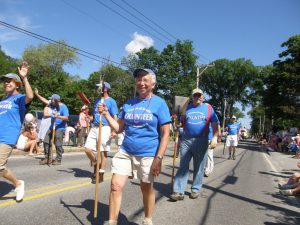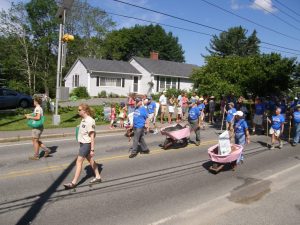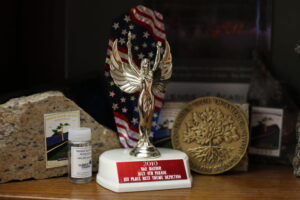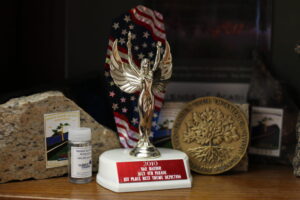 Photos of the drill team over the years courtesy of Jonathan Gormley