Being a member of Friends of Acadia signals to the world that you care passionately about the issues surrounding protecting and preserving Acadia National Park—its flora, fauna, forests, trails, carriage roads, summits, scenic vistas, seashores and lakes.
Membership dollars also help provide a margin of excellence for park programs, personnel and facilities. They fund education, understanding and advocacy aimed at inspiring future generations of thoughtful stewards, help keep the public informed, and Acadia's threats at bay.
In addition, Member Benefits include:
Subscription to Friends of Acadia Journal
The Friends of Acadia Journal is published four times a year. With features about Acadia National Park's history, resources, and programs, news about Friends of Acadia's projects and activities, and information about how to get involved, the Friends of Acadia Journal is a great way to stay connected to Acadia National Park, all year long. Membership in Friends of Acadia includes a subscription to the Journal.
Our monthly Friends of Acadia E-News
Stay current with Acadia and Friends of Acadia happenings, our monthly Friends of Acadia E-News will be delivered monthly to your inbox.
Free and discounted one-year subscription to mobile Chimani App
(NEW)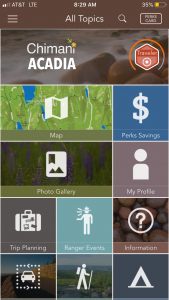 Chimani, the makers of a free mobile app guide to all 418 units of the national park system, has partnered with FOA to offer discounts on its top upgraded service "Chimani Perks." That gives users unlimited access to 64 super-detailed national park guides, including Acadia, detailed offline maps, and more than $2,500 in discounts from national park-related businesses.
New FOA members will receive a special discount code for a FREE, one-year subscription of Chimani Perks — a $29 retail value. Volunteers will also be eligible for a free subscription.
Current FOA members will have access to a special discount code for 50 percent off the Chimani Perks upgrade. To get your code, email: chimani@friendsofacadia.org
For more information, visit our Chimani page.
Businesses Who Contribute Proceeds and Discounts
Click HERE for list of local businesses who contribute to Friends of Acadia by donating proceeds from sales and by giving discounts to our members.