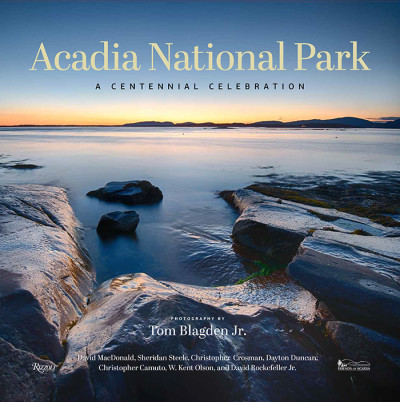 Acadia National Park: A Centennial Celebration
Photography by Tom Blagden Jr.
Essays by Christopher Camuto, Christopher Crosman, Dayton Duncan, David Rockefeller Jr., David MacDonald, Sheridan Steele, and W. Kent Olson
"Nature photographer Tom Blagden and his fellow contributors have created this fitting tribute [to Acadia]—full of photography and stories that only first-hand custodians of the natural wonderland could provide in such lavish and loving detail. If you've yet to experience the park for yourself, this beautiful portfolio could be a great way to get your first look." —Metrosource
Acadia National Park: A Centennial Celebration, published in partnership with Friends of Acadia, is a stunning portfolio of photographs revealing Acadia's diverse habitats, bringing home the contrasts of pounding ocean and silent coves, bald mountain summits and deep forest valleys, as never seen before. The essays convey the unseen story of Acadia: its history as the oldest national park in the eastern US; the critical and philanthropic role of the founding families in its creation; the past and current importance of private stewardship; and its status as a unique park forged in a particular time and place in history. Acadia National Park celebrates the essence of this special place and offers a cherished journey into its past, present, and future.
Friends of Acadia will receive all royalties from the purchase of this book, to further its mission to preserve and protect Acadia National Park. Available through Acadia-area booksellers and other retail outlets. Friends of Acadia members may purchase copies at the FOA office in Bar Harbor.
Tom Blagden Jr. is a professional nature photographer and author of First Light: Acadia National Park and Maine's Mount Desert Island, which won a 2006 National Outdoor Book Award.
Published by Rizzoli New York / ISBN: 978-0-8478-4914-7
$50.00 US / Hardcover / 224 pages
150 color photographs / 12″ x 12″