Rockefeller's Little Castles
By Aimee Beal Church
From the Winter 2010 Friends of Acadia Journal
"Living at the gate house, I felt like royalty ensconced in its castle. When storm winds blew, I couldn't hear them, the walls were so thick. The interior woodwork and paneling were dark, the windows small, so I remember mostly reading by incandescent light through long winter nights. I never knew what the weather was until I stuck my head out the door. It was a true refuge."
—Steve Perrin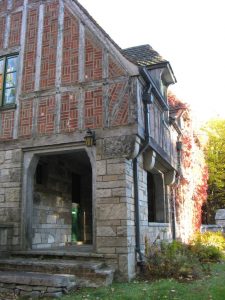 Photographer and writer Steve Perrin was working in the planning office at Acadia when he lived at Brown Mountain gate house (or "gate lodge" as it's officially called) during the winter of 1995–1996, "a true Maine winter, very cold with lots of snow." Like other park employees before and after, Perrin was housed in a magnificent piece of history, employee housing whose great beauty belies its commonplace purpose.
Brown Mountain gate lodge is located on Route 198 outside Northeast Harbor. Its sister, Jordan Pond gate lodge, is just south of Jordan Pond House on the Loop Road. Both were built in 1931–32 by John D. Rockefeller Jr., and subsequently given to Acadia along with the carriage road system they served.
Historically, a gate lodge was built at the entrance to the grounds of a large country estate, inviting guests to "explore" a carefully designed landscape, in keeping with the romantic view of nature that had emerged in the 18th century. At the same time, the lodge—elaborate in form but humble in function—housed the working-class gate keeper and his family, ensuring that the gate was always manned.
The story of Acadia's gate lodges begins with the advent of automobiles on Mount Desert Island. The question of whether to allow motorcars had raged in the early 1900s. When first the west side, then Bar Harbor, and finally Mt. Desert (in 1915) were opened to cars, Rockefeller—who took great pleasure in horse-drawn carriage rides— turned his energy and resources to creating a road network that would be forever motorfree, both on his own land and within the newly-created park.
By 1930, more than half of that network had been completed. Rockefeller asked landscape architect Frederick Law Olmsted Jr. to review his plans for the system. Olmsted's report emphasized a distressing fact: that the finished roads were subject to "the unauthorized, indeed the strictly forbidden, use of the roads by the automobiles of those who find sufficient convenience or pleasure in using them to disregard the prohibition. [This] use is reported to be, and very apparently is, extensive."
What to do? Olmsted's preferred solution was a yet-to-be-invented barrier that would allow carriages but not motorcars to pass. His other suggestion: "an ordinary gate with an attendant constantly on watch." In other words, a gate lodge.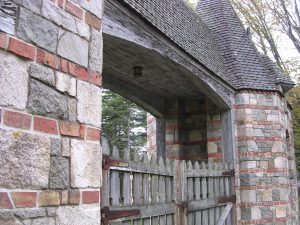 Enter Grosvenor Atterbury. A "gentleman" architect with connections to New York society, Atterbury had designed several buildings on MDI in the early 1900s, including the Congregational Church in Seal Harbor. He likely met Rockefeller through Olmsted, with whom Atterbury had collaborated. In 1930, Atterbury began plans for several buildings on Rockefeller's MDI property. A teahouse/stable at the north end of Eagle Lake was never built, nor was a new Jordan Pond teahouse (the original farm house remained until it burned in 1979). Three Atterbury designs were constructed—the apartment building on what is now the SERC campus at Schoodic, and the two gate lodges.
But first, Rockefeller sent Atterbury on a tour of the western parks, including Yellowstone and Yosemite. Atterbury came away with several principles, including: that buildings should be sited "outside the picture" so they don't compete with scenery, that "ancient local traditions" should serve as models, and that "foreign style" can be adapted when native styles are not available. Above all, context must be the guide.
Accordingly, both gate lodges were built on wooded sites removed from Acadia's magnificent natural features. Atterbury felt that Acadia needed a "somewhat more sophisticated treatment" than the western parks, and chose a style inspired by medieval French Romanesque architecture, which he had admired while touring the Le Puys district in southern France several decades before. Sieur de Monts, for whom the park was originally named, came from Le Puys so this choice seemed particularly apt.
Both lodges consist o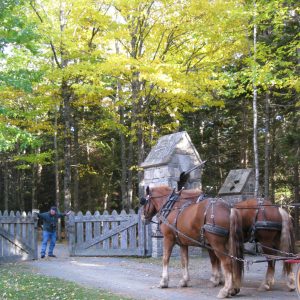 f a carriage house, the lodge house, and a gate, all seamlessly connected by a wall. Steep, tile-clad roofs, half-timbering, and stone walls laid in stratified courses unify each group of buildings. Contrasting bands of red brick, octagonal turrets, and a grand roofed gateway distinguish the Brown Mountain gate lodge; the Jordan Pond gate lodge, located deeper within the park, was given a quieter appearance with exterior walls that emphasize texture rather than color, and wooden gates between stone piers.
Atterbury and Rockefeller both came from affluent families who saw philanthropy and reform as a moral obligation of their class. In Atterbury's career he had alternated between grand estates for wealthy clients, and forward-looking housing complexes for the less privileged. He was one of few architects to study how to maximize light and ventilation in urban tenement buildings, and championed the promise of technologies like prefabricated concrete to bring beauty into the lives of the working class. But Atterbury's devotion to form and craftsmanship set him apart from other architectural innovators of the time. He saw this as essential to social reform, saying, "The matter of the housing of the people is one of fundamental importance if you wish to create and foster an esthetic sense that can grow and blossom." Acadia's gate lodges, then, must have felt like an ideal commission toward the end of his career: works of great beauty, with the creative freedom and generous budget of his large estates but with the humble purpose of housing working-class families.
So, for all their fantastical exteriors, the interiors are modest and spare. The original building specifications for Brown Mountain, an 87-page document itemizing every aspect of construction, offers frequent reminders that this building was not a miniature fairy castle but a home. From the allowance for a medicine cabinet and refrigerator, to the specs for a radio outlet, the details tell that Atterbury never lost sight of the people who would live there.
When completed in 1932, the two gate lodges were received with great enthusiasm. Rockefeller found them "much more imposing and important than [he had] dreamed," and noted that "Mr. Graves, the contractor, simply adores both buildings, and talks of them as though they were his favorite sons." The Bar Harbor Times wrote that the lodges' construction "marks a step in the development of the whole Island and for the Park, since such beautiful structures just at its borders constitute unique possessions…" Atterbury even reported that Secretary of the Interior Harold Ickes had asked to be made a gatekeeper after he retired, just so he could live in one of the lodges.
In the years since, the Brown Mountain and Jordan Pond gate lodges have continued to house park employees, but the necessity of guarding the carriage roads against automobiles has evaporated. The roads' primary users—pedestrians and cyclists—can easily pass around the coping stones and brown steel gates placed at access points throughout the system. The carriage road doesn't even pass through Brown Mountain's grand gateway any more, and the rustic wooden gates at Jordan Pond can be opened by any willing carriage passenger. Today, the prohibition has the force of tradition behind it—except for authorized service and emergency vehicles, the carriage roads are entirely car free.
Occasionally, the idea of tours of the lodge interiors crops up, as visitors often ask about Acadia's mysterious little "castles." But thus far, like the historic gate lodges they were modeled after, they remain public outside, private inside—two architectural jewels gracing the borders of a natural treasure.
AIMEE BEAL CHURCH is the communications and outreach coordinator at Friends of Acadia.
More information about Acadia's gate lodges can be found in The Architecture of Grosvenor Atterbury by Peter Pennoyer and Anne Walker, and Mr. Rockefeller's Roads: The Untold Story of Acadia's Carriage Roads and Their Creator by Ann Rockefeller Roberts.
Photos, top to bottom:
The first resident of the Jordan Pond gate lodge was Rockefeller's chief road engineer, Paul Simpson, and his family.
The Brown Mountain gates were designed as a grand entrance to Acadia National Park.
A willing passenger opens the Jordan Pond gates for this carriage from Wildwood Stables.
(Friends of Acadia/Aimee Beal Church photos)