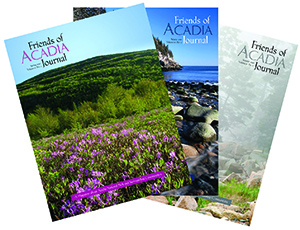 Acadia: The Friends of Acadia Journal is a collection of feature articles, updates, and commentary from Friends of Acadia and park leadership—together with gorgeous photographs of the park in all seasons— shared with our members, volunteers, and local residents.
Each issue of Acadia magazine is designed to inform, inspire, and entertain. But above all, each issue reminds our members of their love for Acadia and deepens the relationship so many have with the park.
A remarkable 93 percent of our members read Acadia magazine. Business sponsorship offers the best kind of exposure for your organization, demonstrating your commitment to Acadia National Park and to the thousands of individuals and families who live here or visit regularly, and who love the park. As a valuable community partner, you help Friends of Acadia grant more than a million dollars every year to the park and our surrounding communities.
About Acadia: The Friends of Acadia Journal:
Published three times per year;
Each issue reaches more than 15,000 dedicated conservation and Acadia lovers, including Friends of Acadia members, volunteers and local residents;
Every issue available for download here.
A 2019 survey revealed that more than 90 percent of our members read Acadia magazine.
Journal sponsorship is on an annual basis. To become an Acadia magazine sponsor, please contact us at 207-288-3340 or membership@friendsofacadia.org.
Other sponsorship opportunities: Business Sponsorships

PLEASE READ
Because of Friends of Acadia's IRS classification, we are obligated to observe certain restrictions in ad content. Sponsorship ads may include:
The sponsor's name, logo, or products
Slogans/tag lines that are an established part of the sponsor's identity ("G.E…We bring good things to life.") or that do not contain qualitative or comparative descriptions of the sponsor's products, services, facilities or company
A list of the sponsor's locations, telephone numbers, or Internet address
Value-neutral descriptions, including displays or visual depictions, of the sponsor's products or services
Not allowed are qualitative or comparative language ("gorgeous," "the best," "#1"), price information, or indications of savings or value ("10% off").
This is a relatively new restriction for all Friends of Acadia publications, and we do our best to apply the rules correctly and fairly. If you have questions about the wording of your ad, please contact at membership@friendsofacadia.org. Thank you for understanding!