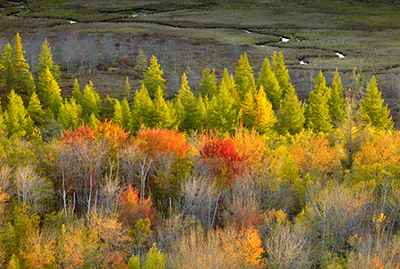 By Abe Miller-Rushing, Becky Cole-Will, and David Manski
from the Fall 2014 Friends of Acadia Journal
Rapid environmental change. It is happening and the consequences are significant, even though it is tough to see as you enjoy Acadia's trails, carriage roads, and coastlines, or explore natural areas in other parts of the country or world.
In the past few issues of the Friends of Acadia Journal, you may have read about some of these changes. They include warming temperatures, increases in large rainfall events, longer growing seasons, losses of some native species, gains in some invasive nonnative species, blockages of fish passageways, and increases in air and water pollution.
The environment has changed throughout history. The shifts we are seeing now, though, are exceptionally big and widespread. And although many of these are happening over decades or centuries—slow by the standards of our day-today lives—many are happening more rapidly than they have in thousands, hundreds of thousands, or millions of years. In some cases the pace and magnitude of change is unprecedented.
Please, though, do not surmise that the situation is helpless. Acadia's ecosystems have changed, often in ways we would rather they had not, but they are still dynamic and vibrant ecosystems and rank among the country's natural treasures. Rather, we encourage you to take the current situation as a call to action. We on the park staff and throughout the National Park Service certainly are, as are many of our partners such as Friends of Acadia.
A change in approach
The National Park Service is charged with "preserving unimpaired the natural and cultural resources and values of the national park system for the enjoyment, education, and inspiration of this and future generations." In the 1960s this mission was interpreted to mean that we should preserve national parks as "vignettes of primitive America," keeping the natural and cultural resources in parks static and unchanging. That approach, however, which resulted in a handsoff management approach to resource protection and conservation, has proved unworkable. Ecosystems in Acadia and other parks are changing, and our park managers cannot stop many of the changes that are underway.
Instead, we are shifting our approach to one in which we try to stop the changes we can, but also work to increase and maintain the resilience of our forests, streams, wetlands, and lakes to the changes taking place and changes that may come in the future. That is, we are working to recover and maintain the ecosystem's natural ability to bounce back after severe storms, pollution, pest outbreaks, or other disturbances.
Improving and maintaining resilience
Just what does this look like in the field? We are removing invasive species, replanting native vegetation, replacing culverts and removing obstacles to fish passage in streams, and reducing sources of pollution. We are studying and monitoring air and water quality, results of which help other agencies, such as the U.S. Environmental Protection Agency, set appropriate standards for pollutants that might come from fossil fuel emissions or other sources. We are also working to tell the story of the changes taking place and how people can help mitigate the most damaging aspects of those changes. In many cases, interpretation and education are our most important management tools.
We are beginning to focus this approach even more, by targeting much of our work to particular watersheds. Watersheds are areas of land in which all of the water drains to the same place. Water draining through a watershed connects all of the habitats it passes through—pollution or other problems up high in the watershed can flow downstream and affect forests, streams, or lakes lower down. By taking a holistic and systematic approach to tackling many of the problems facing a given watershed, we can help all of the habitats and ecological communities it contains become more resilient to climate change, pollution, and other rapid environmental changes.
Cromwell Brook Watershed
We have identified several priority watersheds where there is much work to be done—places such as the Marshall Brook, Northeast Creek, Otter Creek, and Stanley Brook watersheds. We will continue to support research and management activities in these places. However, we are starting our targeted resilience-building work in the Cromwell Brook Watershed, which runs roughly from Dorr Mountain and the Tarn, through the Sieur de Monts and Great Meadow area, and into Cromwell Cove in Bar Harbor.
Why the Cromwell Brook Watershed? It is ecologically important—it hosts fish runs, a large wetland, old forest stands, and important wildlife populations including bat populations that are quickly declining from disease and other threats. The Sieur de Monts area is recognized as a nationally important cultural landscape, and the encompassing watershed served as a major component of the oldest section of the park—the original Sieur de Monts National Monument, established in 1916. George B. Dorr, the "father of Acadia," considered this area the hub of his envisioned park, and he did considerable trail and road construction and other landscape development here. Today, the watershed is a popular place for park visitors and local community members, with access to trails, the Nature Center, the Wild Gardens of Acadia, and the Abbe Museum.
Many of the challenges in the Cromwell Brook Watershed stem from past development and are interrelated—so tightly linked they are best addressed together. The easiest place to see these connections is in Cromwell Brook itself. Many old culverts beneath roads and trails are too small to handle the large rainfall events that are now becoming more common. Resulting floods (exacerbated by both beaver dams and small culverts) can submerge the parking lot and other developed areas at Sieur de Monts, polluting the brook. Those same culverts, dams, and other alterations to the water's natural flow also block fish movements to upper and lower reaches of the brook.
Over the past few years we have begun work to address many of the challenges in the watershed. After we replaced a major culvert beneath the road entrance to the Sieur de Monts parking area, fish began passing upstream and flooding apparently diminished. We have also removed hundreds of invasive plants—particularly glossy buckthorn—from the watershed, creating an environment where more native plants can thrive. We have elevated the Jesup Path by building a boardwalk that preserves the historic trail and at the same time helps to restore the natural hydrology to the wetland. We plan to continue and expand this work in the coming years, taking on a series of projects to ensure that the watershed has clean water, natural flowing streams, healthy forests and wetlands, a balance between the natural and cultural landscapes, and sustainable facilities that minimize their impacts on natural and cultural resources.
Partnerships are key
The work that we have done to enhance and maintain the resilience of Acadia's ecosystems to date, and the work that we plan for the future, rely on partnerships. In the Cromwell Brook Watershed we relied on funds, staff, and volunteers from Friends of Acadia to plan and construct the Jesup Path boardwalk. We worked closely with experts at the U.S. Geological Survey, University of Maine, U.S. Fish and Wildlife Survey, and Maine Department of Inland Fisheries and Wildlife to plan the replacement of culverts and other actions to restore fish passageways and the hydrology of the watershed. Going forward we are working closely with Friends of Acadia to plan and implement future restoration activities, and will also work with the Town of Bar Harbor, Jackson Laboratory, and other stakeholders in the Cromwell Brook Watershed. We will rely on the expertise of the Schoodic Institute, U.S. Geological Survey, University of Maine, and other federal and state agencies to help us with the science and technical expertise necessary to plan and implement an effort like this. And we will rely on volunteers to help with some restoration activities such as removing invasive species and replanting natives, and citizen-scientists to help monitor the effectiveness of our actions. It will take a lot of collaboration to make this approach a success.
What the future holds
We are excited about this change in our approach to improving and maintaining the resilience of our natural and cultural resources in Acadia, and hope that this will give us the best chance to preserve them for this and future generations. We will undoubtedly learn along the way and are setting up mechanisms through monitoring and assessments to ensure that we do. As we learn, and as our rapidly changing environment presents us with new challenges, our approach may change. But that is to be expected.
As we make progress in our work in the Cromwell Brook Watershed, we plan to shift our focus to other priority watersheds where similar work is needed, such as Marshall Brook, Stanley Brook, Otter Creek, and Northeast Creek. We look forward to working with many of you as we take on this work. And we hope that it helps to inspire more environmental stewardship in this region and throughout the country. ❧
ABE MILLER-RUSHING is the science coordinator for Acadia National Park. BECKY COLE-WILL is the park's chief of resource management. DAVID MANSKI is currently Acadia National Park's acting deputy superintendent, after serving as chief of resource management for the past 20 years.