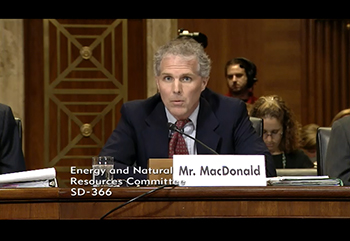 (This is a condensed version of comments that David MacDonald presented before the US Senate Committee on Energy & Natural Resources on July 25, 2013, in Washington, DC.)
Chairman Wyden and other honorable members of this committee, thank you for the opportunity to join you today.
My name is David MacDonald and I serve as President of Friends of Acadia, a non-profit organization with 3,600 members that has worked in close partnership with the National Park Service since our founding in 1986. Our members love Acadia and are proud to give back to the park through philanthropic donations and thousands of hours of volunteer work in the park.
My respectful message to your committee here today is that Acadia is a conservation gem and economic powerhouse that we must work together to conserve. We must find the appropriate balance between public and private funding so that this park and others around our nation will continue to provide benefit and inspiration future generations.
I also want to convey that I do recognize the challenging decisions that you must make in this Congress. You hear thousands of worthy petitions every month. You must decide much – but can satisfy few. Yet I am here to petition with pride and confidence, because I have a mighty ally: the American people.
Across every geographic, demographic, and political cross-section, Americans want Congress to support our national parks. In a bipartisan survey done last year, 92% of all respondents opposed any reduction in funding for our national parks. On their behalf, we petition Congress to make no more cuts to park budgets and that you develop a longer-term plan to restore full federal funding for our parks.
Acadia was the first national park created entirely through private donations of land from neighboring landowners. This long history of private initiative, philanthropy, and community pride and investment in our park continues today – and these very principles will be essential to our ability to prepare the park for its second century.
They are also the principles upon which Friends of Acadia has based our first twenty-seven years of partnership work. In the early 1990's we undertook a public-private effort to restore Acadia's 45-mile network of carriage roads. We worked with Congress to commit $6 million of federal appropriations while agreeing to raise $4 million in private contributions that would serve as a permanent endowment held at Friends of Acadia to ensure continued maintenance of the roads.
All of us at Friends of Acadia are proud of our strong partnership with the Park Service, however we are also firm in our conviction that we, the people of the United States, through our federal government, have a perpetual responsibility to assure the conservation of Acadia. Private philanthropy has a critical role to play in the future of our parks, but there are limits to that role.
In recent months, the federally mandated 5% cut to Acadia's operating budget meant that park motor roads opened a month later than usual, visitor center hours have been shortened, and free ranger led programs for families have been cut in half this summer. These cuts do serious damage to the fundamental assets and heritage that our national parks represent. They also severely affect the economy of our surrounding communities. The park is estimated to generate $186 million in economic activity in our region, supporting approximately 2,970 jobs.
Friends of Acadia is already working with partners at the local, state and federal level to explore options for sustainable, supplementary funding for America's national parks, including the following two priorities needing Congressional action:
 The Federal Lands Recreation Act (FLREA) must be reauthorized, preserving parks' ability to retain a high majority of the fees they collect. Park entrance fees have been a very important source of funds for Acadia to maintain buildings, roads, trails, and more. Visitors pay the fees willingly and are pleased to hear that 80% of them are retained at Acadia. It is critical that FLREA be renewed by 2014 with the authorization for the National Park Service to experiment with the fee structure to maximize revenues based on locally-appropriate solutions.
Authorizing public funding to create a challenge program such as the proposed Park Legacy Partnership is a high priority to encourage private fundraising. Versions of this concept have been discussed since at least 2007. Now is the time to build upon lessons learned from the past efforts and to create an opportunity for Congress and private partners to design a fund that will inspire private donors to look toward the 2016 Park Service Centennial. In particular, we encourage a program that would be inclusive of a wide array of possible ways to give, and not require that private gifts be made to the Federal Treasury in order to qualify for the federal match.
Friends of Acadia's successful Acadia Trails Forever initiative illustrates the power and potential of both entrance fee collection and the proposed Park Legacy Partnership. Our organization raised $9 million in private funding to restore and permanently endow the maintenance of Acadia's historic trail system. This was matched by $4 million in public funds – primarily from revenue collected at Acadia through visitor entrance fees. This campaign went on to be a model for other parks and friends groups around the country. Yet I don't believe that it would have been possible if we had not been able to tell our private donors that the federal government was coming to the table with a significant investment in the project; nor would it have worked if we had told our private donors that their contributions would need to be made directly to the U.S. Treasury.
In closing, I invite Committee members to pay us a visit at Acadia this summer or in the future – my words here today pale in comparison with a first-hand visit, and it would be our pleasure to help you or your staff come and enjoy the Acadian experience. I also hope that you will call on Friends of Acadia and other similar organizations as willing and able partners in ensuring a secure future for our national parks. Thank you.