By Judy Hazen Connery,  Acadia National Park Natural Resource Specialist
The condition of the Sieur de Monts spring pool shouldn't have surprised me, given that our "landscaping crew" had long ago been reduced by budget cuts to a "mowing crew" and was barely able to keep up with cutting the park's many lawns, fields, and roadsides– much less weed and nurture landscape plantings. Still, I wasn't prepared for what I saw back in 2010: the focal point of the Sieur de Monts cultural landscape was WAY out of focus—in fact, it was completely obscured in a tangle of exotic invasive plants. Visitors strolled by, completely unaware that the pool even existed.
"George Dorr, who so loved this place, must be turning over in his grave," I thought to myself. Indeed, looking to the left I saw his memorial stone was covered with tall brush, the carefully placed and tended native plantings as hidden from view as his beloved pool. What other treasures would soon be overrun with bittersweet vines, thorny barberry bushes, and Japanese knotweed?  "I'm not sure what we can do, but we have to do something."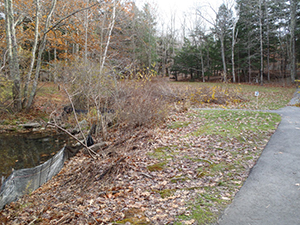 Thankfully, there were many others who thought the same way. Although it's taken five years, the skills and hard work of many National Park Service (NPS) and Friends of Acadia (FOA) professionals and volunteers, and funding from FOA donors and park entrance fee revenues, something has indeed been done! The park's curatorial staff found photos of what the landscape looked like soon after it was installed and those photos served as references for rehabilitation. The exotic plant management team began the on-site work by carefully managing the many exotic plants and woody natives. Once the invasive plants were removed and environmental permits obtained, the park's wildlife biologist electro-shocked the pool and re-located several sizable trout downstream before the pool was dewatered by the park firefighting staff. Immediately, the trails crew installed erosion control fencing to protect the fragile soils along the stream and worked their amazing magic by finding and re-placing all the original stones that had slid into the
water, including the "island stone" shown in the historic photos. Meanwhile, FOA staff were busy securing a grant from the National Parks Conservation Association to support revegetation, while park interpretive rangers and volunteers at the Nature Center and tour bus guides explained the story of the historic spring pool to questioning visitors, and why and how it was being rehabilitated. Finally, after the last stone was re-set, non-historic stairways were removed, and the Dorr Memorial weeded, we have begun the work of re-planting. We are using native plants that are commercially available for landscaping that match the size and structure as the original, and sometimes invasive, herbaceous perennials that were first installed. Given many years of science, our society better understands than Mr. Dorr did the threat invasive garden plants can pose to park ecosystems. We hope that the landscape will complement the Wild Gardens of Acadia and demonstrate that native plants can be a beautiful, and easy-care, addition to home gardens. Plant labels are being made and installed that will identify the plants and provide information about their sunlight and soil requirements. Finally, small signs will inform visitors that these are native plants, and how natives help protect the environment.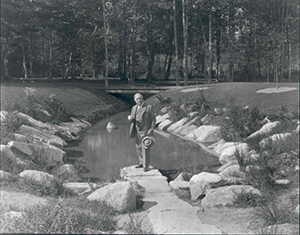 The next challenge will be finding a way to maintain the landscape over time. I'm confident that we can do it. Like this project–where there is a will, there HAS to be a way, if we all work together.
By the time our 100th anniversary arrives next July, George Dorr's spirit will be celebrating the landscape stewardship through partnership that is alive and well at Sieur de Monts—what he considered to be the "Heart of Acadia."