Emma Longcope: Stitching Art and Outdoors
EMMA LONGCOPE: STITCHING ART & OUTDOORS
Emma Longcope has always loved adventure. Growing up, her grandparents' (and later, parents') house in Southwest Harbor was a base for many childhood experiences that included sailing, hiking, and tide-pooling. Most memorable is the summer when she spent nearly every available daylight hour on a driftwood raft.
"My sister and I found wood washed up on a neighbor's beach and lashed it together to make a raft. We would gather paddles and life jackets and come together with the rest of the kids who lived on Clark Point to paddle the raft around a tiny cove," Longcope recalls. "One morning, we woke up to find  the raft gone after a summer storm blew it off its anchor and out to sea."
Eager to resume their adventures, the sisters decided to create a new, more robust raft—this time with a stronger anchor. To raise funds, they operated lemonade stands at the nearby Island Explorer bus stop, selling drinks and small crafted trinkets like friendship bracelets and painted rocks and shells. A neighbor offered his garage for the project and gave the sisters lessons on the basics of carpentry. After some ingenuity and hard work, the new raft was launched, and their adventure continued.
"I loved that at the root of this project was community: people coming together, offering what they could—chairs for the lemonade stand, space to build, buoys to adorn the mast—to create a floating symbol of summer creativity," Longcope says.
Since that summer, Longcope's need for adventure — and community — has not lessened. "My family are members of FOA, and I remember flipping through the Friends of Acadia Journal when I was young. I'd see photos of Ridge Runners out on the trails and always thought that would be a dream job," Longcope explains. Her dream came true when she joined FOA as a Ridge Runner the summer after graduating from Colorado College.
Longcope says, "It was a perfect job for me because a typical day as a Ridge Runner involved building or rebuilding historic Bates cairns on the park's trails and facilitating positive experiences for visitors while helping them leave no trace on Acadia's fragile ecosystems.
"So many folks I talked to were eager to tell me how magical their trips here were, and those interactions really brought home how the seed for conservation is experience — I'd like to think those folks are now advocates for this place, for its preservation and upkeep and continued care."
Longcope finished her summer as a Ridge Runner excited to keep finding ways to facilitate connections between people and wild places.
Most recently based in Colorado, Longcope was working in the marketing department of a national non-profit but missed being in the field. She would spend her free time traveling around the west rock-climbing and backcountry skiing with her boyfriend, Sam. During this time, she began embroidering the landscapes she saw on her travels as a creative outlet during her downtime.
"The first jacket I made and didn't keep featured a desert tower near Bears Ears National Monument, Utah — an area that's threatened by extractive industries, against the wishes of many members of local Indigenous tribes. I was paying my bills through my 9-5 marketing job, and I didn't feel right profiting off this jacket that depicted a landscape in peril, so my friend who bought the jacket donated the price to a coalition of Indigenous leaders who work to keep Bears Ears protected," Longcope continues.
Since then, her projects have included flags that have raised money for a local food bank in an area severely impacted by the COVID-19 pandemic and a custom jacket fundraiser for an organization that provides therapy for Black women and girls.
Longcope says she cares about conservation, equality, and sustainability, and that they are all connected. She feels privileged to be able to use art as one small lever to create momentum around
the things she values. "I love upcycling clothes that already exist into heirlooms that folks will keep for a long time because I think ideally we could all benefit if we moved toward a more circular economy of goods —  less landfill, more art.
"When I donate to organizations it doesn't feel like charity to me, it feels like I'm voting for what I believe in with my time, skill-set, and what's accessible to me."
---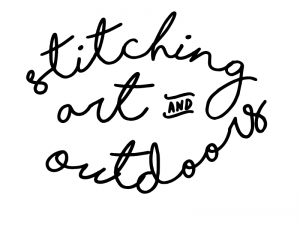 Wall Hanging to Benefit FOA
To benefit FOA, Emma has created an embroidered wall hanging: a series of four flags, each with a glimpse of the view from Otter Cliffs. A few lupines are also featured because "even though they're not a native plant, they feel like an iconic Acadia flower to me." She chose Otter Cliffs because "I'm lucky to spend a lot of my time climbing at that location, and every time I'm there I feel like I'm in a postcard."
Emma says, "While I can't claim to be a true local here, Acadia feels like my backyard, and it's a place that has always supported me. Doing art to benefit the Park seems like one way I can support it back."
The flags are made from panels of contrasting blue wool felt, stitched with embroidery thread, and strung together with navy sailing line. Each flag could stand alone, but together hint at how vast the view feels, from the Beehive to the open Atlantic. She stitched the piece slowly during late summer on the island and hopes it can offer the drawing winner a bit of the joy and freedom one feels when standing on that iconic granite overlook.
Note: The wall hanging was raffled off on December 6.  Raffle tickets were $10 and all proceeds directly benefited Friends of Acadia's work in Acadia National Park.
Artist Emma Longcope embroiders a 4-flag garland wall hanging. Each flag in the piece has a section of the view from Otter Cliffs. Longcope is a former FOA Ridge Runner. (Photo by Emma Forthofer/Friends of Acadia)
By JULIA WALKER THOMAS, Friends of Acadia's Digital Media Manager – FOA Journal, Fall 2020