COVID-19 Response
Following guidance from the White House, Centers for Disease Control and Prevention, and state and local public health authorities, we are increasing access and services in a phased approach across all units of the National Park System. Before visiting a park, please check the park website to determine its operating status. Updates about the overall NPS response to COVID-19, including safety information, are posted on www.nps.gov/coronavirus.
Buy & Print Online
All Acadia National Park visitors are required to obtain and display a park entrance pass with their vehicles.
To help prevent the spread of COVID-19, we are encouraging all visitors to bring a valid pass or buy and print a pass online before you arrive at the park. This allows you to drive directly to a trailhead or parking area and display your pass from your vehicle.
The only in-person pass sales locations currently available are the Sand Beach Entrance Station on Mount Desert Island and the Schoodic Woods Ranger Station on the Schoodic Peninsula. Review all pass options below.
Entrance Fees
To enter Acadia National Park, you must purchase and display a weekly, annual, or lifetime pass.
Private Vehicle: $30
Valid for seven days
Admits private, non-commercial vehicle (15 passenger capacity or less) and all occupants.
If the vehicle pass is purchased, no other pass is necessary.
Motorcycle: $25
Valid for seven days
Admits one or two passengers on a private, non-commercial motorcycle.
Per Person: $15
Valid for seven days
Admits one individual with no car (bicyclist, hiker, pedestrian). Youth 15 and under are admitted free of charge.
Acadia Annual Pass: $55
Valid for 12 months from purchase date. This pass provides access to Acadia National Park only. This pass admits the pass holder and passengers in a non-commercial vehicle.
Buy Your Digital Pass on Recreation.gov
Whether you're planning a single visit or coming back to Acadia National Park multiple times a year, enjoy the convenience of purchasing then printing your pass before you arrive.This allows you to head directly to a trailhead or parking lot and leave the printed pass on your dashboard.
Learn more about your pass options, find the right pass for you, and buy then print your pass online. Remember: All vehicles must display a park entrance pass. Please display your pass so it is clearly visible through the windshield.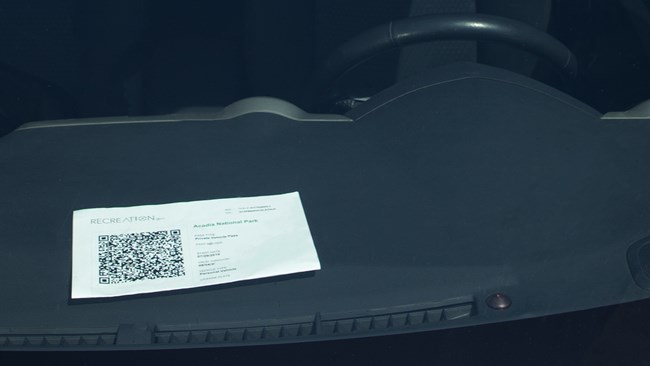 Where Can I Buy A Pass?
Due to COVID-19, we are limiting in person pass sales locations. Please purchase then print your park pass online before driving to the park.
Hulls Cove Visitor Center Closed for the 2020 Season
Sand Beach Entrance Station Open Daily
Bar Harbor Village Green Closed for the 2020 Season
Thompson Island Information Center Closed for the 2020 Season
Blackwoods Campground – Closed until at least August 1st
Schoodic Woods Campground – Ranger Station sells park passes under the front porch. Campground closed until at least August 1st.
Seawall Campground – Closed for the 2020 season.
You can also purchase certain types of passes at third-party sellers. These locations are not operated by the National Park Service. Due to COVID-19, some locations may have delayed openings so please call ahead for more information.
Cadillac Mountain Gift Shop
Jordan Pond Gift Shop
Acadia Regional Chamber of Commerce at Thompson Island
Bar Harbor Chamber of Commerce, Cottage Street
Southwest Harbor/Tremont Chamber of Commerce
Ellsworth Chamber of Commerce
Fee Free Days in 2020
Combine great scenery and history with great savings and visit a national park for free on one of these five fee free days in 2020:
Monday, January 20 Martin Luther King, Jr. Day
Saturday, April 18 First day of National Park Week
Tuesday, August 25 National Park Service Anniversary
Saturday, September 26 National Public Lands Day
Wednesday, November 11 Veterans Day
How Your Fees Help the Park
The fees you pay when visiting Acadia make a difference. Under the Federal Lands Recreation Enhancement Act, Acadia keeps 80 percent of all fees collected and uses that money to improve visitor services and fund critical deferred maintenance projects in the park such as:
Maintain and rehabilitate park carriage roads and hiking trails
Maintain and repair campgrounds, buildings, and picnic areas
Maintain and repair paved roads and parking areas
Improve park accessibility for visitors with disabilities
Operate and maintain the Island Explorer bus service
Provide lifeguards at Sand Beach and Echo Lake Beach
Provide unique interpretive programs
Support and maintain museum exhibits