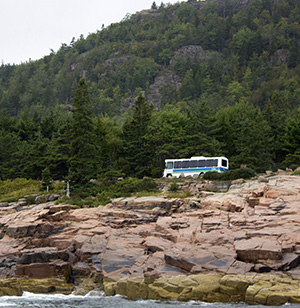 Clean, free, and convenient transportation for all
The Island Explorer is a fare-free, seasonal, propane-powered bus system that runs through Acadia National Park and its surrounding gateway communities. The Island explorer is now a long-running success—the kind that makes it hard to imagine a time when there wasn't a free, environmentally friendly bus service to explore Acadia national park and the park's surrounding communities. Since its first day of operation in 1999, almost 5.5 million passengers have ridden the buses. An estimated 2,081,828 private vehicle trips have been eliminated, along with 29.3 tons of smog-causing pollutants and 19,187 tons of greenhouse gases.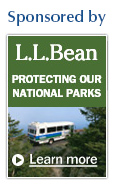 Friends of Acadia has been involved with the bus system since its inception, funding and spearheading the initial test routes and securing $3 million in grants from L.L.Bean to enable continued growth of this innovative transportation system. The Island Explorer is funded by the state and federal government as well as grants from L.L.Bean, Friends of Acadia, local towns, businesses, and passenger donations.
As use of the Island Explorer has expanded, additional routes have been developed including the Bicycle Express, which transports bikes—and their riders—from downtown Bar Harbor to the popular Eagle Lake carriage roads; service to and from Ellsworth; and the Pond House Express (sadly, the name "Popover Express" was already taken!), which helps to reduce parking pressure at the Jordan Pond House.
"We've been using the Island Explorer for years and never had a bad experience! Thank you for your service and keep up the good work!" –Island Explorer rider from Maine
"We feel [the Island Explorer] adds to trip because we can take the bus to one stop, hike to another stop, no backtracking to the car, no fighting for parking, and we get to see much more of the park." –Island Explorer rider from Massachusetts