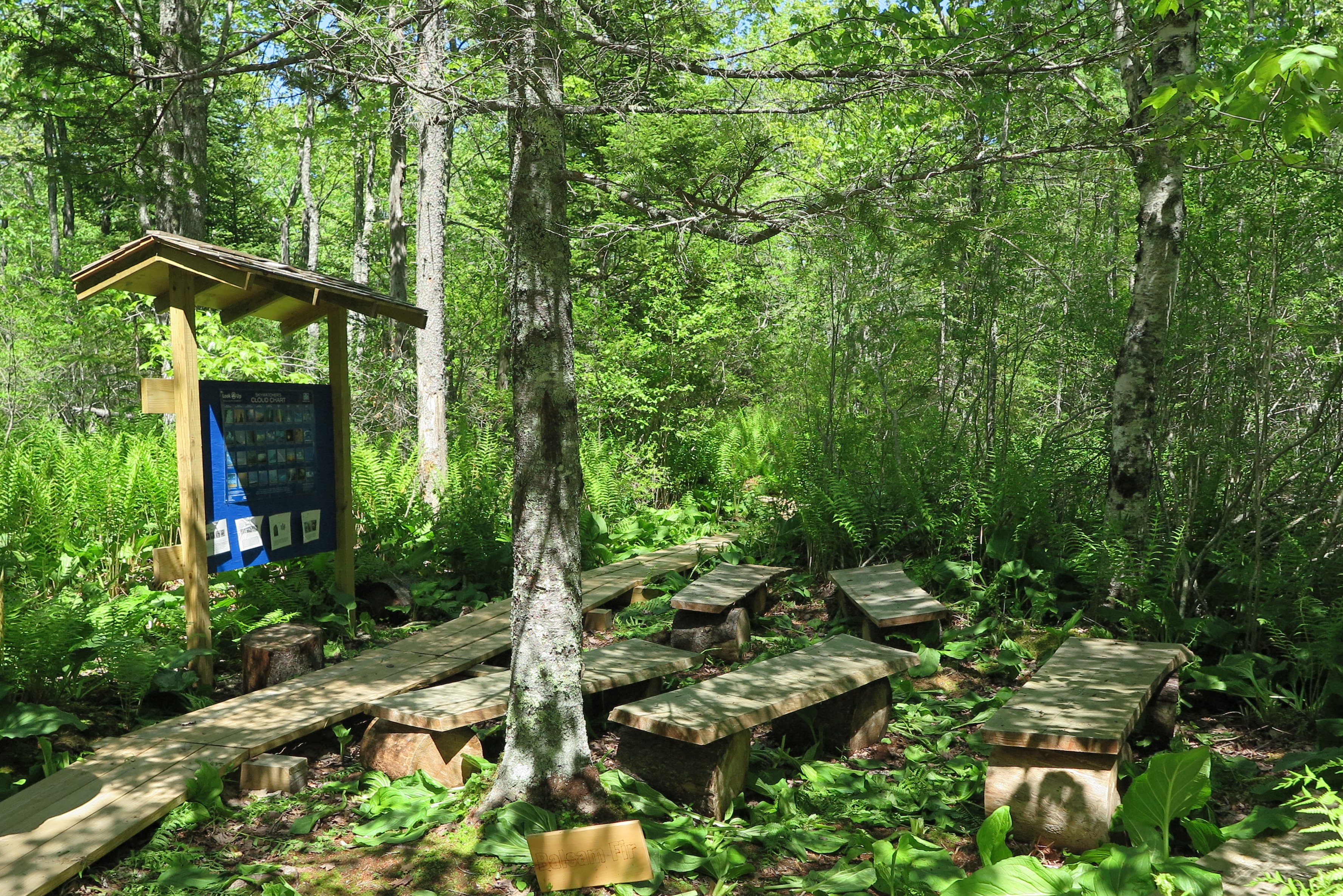 Grants are available for early learning centers and pre-K through 12th grade public schools in Maine to build an outdoor classroom at their site. Funding is provided through Friends of Acadia to support more youth engagement with Acadia National Park. Outdoor classrooms must be on school grounds and provide a curriculum link to Acadia.
What is an outdoor classroom?
An outdoor classroom is an outdoor educational space that brings learning to life by bringing learning outside. It becomes a gathering place for teachers and students and provides an opportunity to integrate nature into your school grounds. All subjects or curriculum can be presented in an outdoor classroom and can be used in every season. To get started, you need a great plan and plenty of school commitment. Elements of an outdoor classroom can include:
Natural features (trees, fields, wetlands)
Greenhouses
Trails
Outdoor chalkboard and seating
Gardens (vegetable, butterfly)
Fitness and balance elements
Creative space
Study space
Grant Funding
Total funds available per school over a 5-year period: $20,000.
$10,000 for grant implementation.
$5,000 for staff training: $1,000 per school year.
$5,000 for optional field trips to Acadia and/or ranger school visits: $1,000 per school year.
Grant Requirements
Submit a complete application including – letter of administrative support, objectives and timeline, fund request, map of design plan, estimated number of participants, and contact information.
Attend Professional Development – Grant recipients will receive an additional $1,000 in staff training funds per school for each year of the grant. Staff will participate in training tailored to the content and site of your outdoor classroom project, which will be decided upon by school staff. Professional development examples: Project WILD/WET, Nature Explore, ANP Park Rangers, etc.
Link Curriculum to Acadia National Park – Students must study three lessons throughout the school year, using the outdoor classroom, which link to current issues in Acadia: natural processes, cultural history, environmental issues, arts in the park, etc.
Provide Documentation of Use – Grant reports are due July 1st for each year of grant activity. Please provide documentation that students are participating in outdoor learning 18 days of the school year (~ 10%) through photos, written summaries of student and teacher experiences, etc. Documentation should showcase the Acadia-linked lessons that the students have studied.
Optional Field Trip and/or Ranger Visit – Grant recipients will receive an additional $1,000 in transportation funds per school for each year of the grant to attend an optional field trip to Acadia National Park, after using the outdoor classroom and learning about the park. Transportation funds may also be used to bring park rangers to campus more than once, depending upon staff availability.
Applications are accepted on a rolling basis.