A unique recreational resource in Trenton
The Trenton Community Trail was created through the efforts of many volunteers and partner organizations. Friends of Acadia originally purchased the surrounding acreage in 2007 as part of the efforts to establish the Acadia Gateway Center. Friends of Acadia worked with the Town of Trenton to plan and construct all aspects of the trail from 2009 to 2013.
Now complete, the 1.8-mile, natural-surface trail loop includes bog-bridging, some boardwalk, three bridges, and a viewing platform at the heath, along with interpretive panels that point out natural and historic features of the trail.
In December 2013, Friends of Acadia placed a conservation easement on the property to restrict development and allow for public recreational use consistent with the land's natural character. Friends of Acadia subsequently donated the land to the Town of Trenton.
Trenton Trail map and information
The Trenton Trail and Park and Recreation Committee would like to thank the following donors for their generous support of the Trenton Community Trail:
LEAD DONORS:
Davis Conservation Fund
Friends of Acadia
National Parks Conservation Association
Nature Valley
Yawkey Foundations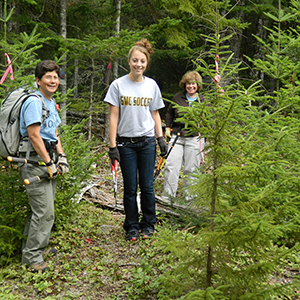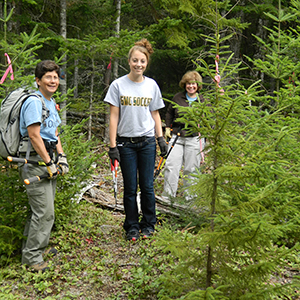 IN-KIND DONORS:
Acadia National Park
Michael Altos
Mike Baker
Tom Blagden
Bob Bowman
College of the Atlantic
Dorr Museum of Natural History
Downeast Transportation
Kelly S. Dickson
Eden Builders
Michael J. Good
Hancock County Technical College
Maine Department of Transportation
Fred Model
Kathryn Miller
National Park Service Rivers & Trails
Rich Johnson
Jim Linnane
The Royal Saskatchewan Museum
Town of Trenton
Bill Townsend
Trenton Market Place
And the hundreds of volunteers who contributed thousands of hours of trail-work in support of the Trenton Community Trail.