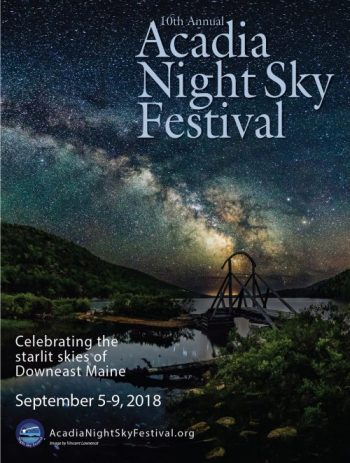 Protecting and celebrating Acadia's nighttime splendor
Acadia's brilliant, starry night sky used to be taken for granted. But growing awareness of its scenic and educational value has prompted a surge of interest in protecting this natural resource. Acadia offers visitors the opportunity to enjoy a high-quality night sky and natural darkness, with stunning views of the Milky Way arching overhead—a sight that two-thirds of all Americans cannot see at home due to light pollution.
The forecast for the growth in light pollution is alarming, yet there are easily identifiable solutions and a growing number of success stories in protecting and restoring night skies. You can help protect the starry skies at Acadia and in your town through these simple steps: 1) use outdoor lighting only where and when it is necessary; 2) consider using fully-shielded light fixtures that direct light downward rather than into the sky; 3) select bulbs with warmer colors (below 3000K on the Kelvin-scale); 4) put motion-detectors or timers on outdoor lighting so that it turns off when not needed; and 5) advocate for lighting ordinances in your town to encourage everyone to participate in protecting the night skies. Smart, well-designed outdoor lighting can save energy, reduce glare, improve safety, and reduce light pollution.
Since 2009, Friends of Acadia has provided funds and volunteer support for the Acadia Night Sky Festival, a community celebration to promote the protection and enjoyment of Downeast Acadia's stellar night sky as a valuable natural resource through education, science, and the arts.
Friends of Acadia has also helped Acadia National Park inventory its lighting systems and replace outdated light fixtures with dark-sky-friendly lighting at Seawall and Blackwoods campgrounds.
How You Can Help
If you are considering installing outdoor lighting on your property or business, learn about night sky friendly lighting at
http://www.darksky.org
.