Acadia Quest is a series of youth- and family-oriented experiences in Acadia National Park that encourage youth and families to explore, learn, and protect national parks and other conserved lands.
Acadia Quest has ended for 2013. Check back in spring 2014 for details about the 2014 Quest!
THE 2013 TRAIL QUEST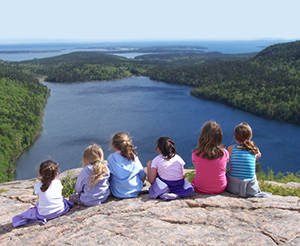 Friends of Acadia and Acadia National Park have revamped the Acadia Quest for the 2013 season.  The 2013 "Trail Quest" will challenge teams to Explore, Protect and Learn about Acadia from a trail perspective. Participants will walk, hike, and scramble along local community, village connector, pond, ocean and and summits. The Trail Quest will be a great source of fun and outdoor engagement for both kids and adults and even their dogs…on leash, of course!
Friends of Acadia will provide each Trail Quest team with a park map and pass and a Trail Quest card. Teams will document each hike with a picture or trail sign rubbing to prove they completed an activity in the Quest.
Acadia National Park offers many trails perfectly suited to introducing children to the variety of nature's splendors. From easy trails along streams and oceansides to more demanding summit climbs, hiking can play an important role in children's formative years. Kids respond readily to the wonders of nature but they need to participate in the real thing, not sit passively or "watch nature" on a screen or from a distance.
HOW IT WORKS
Families, friends, relatives, or mentors create a team. Teams must include one child under
the age of 18 and one adult aged 18 years or older.
HOW TO GET STARTED
Register online or by calling 207-288-3340 and you'll receive your Trail Quest Card and all the information you need to get started.
Complete and return the team permission form.
Plan your Acadia Quest using our list of activities and program requirements
Track your participation using the Quest Card included in your registration packet
Complete the program requirements and your team will be eligible to win the grand prize(s)
Acadia Quest registration will close Friday, August 30, 2013.
Questions about Acadia Quest? Contact Stephanie Clement, Friends of Acadia Conservation Director, at 207-288-3340 or stephanie@friendsofacadia.org.