Acadia Quest is a series of youth- and family-oriented experiences in Acadia National Park that encourage youth and families to explore, learn, and protect national parks and other conserved lands.
WELCOME TO THE 2015 ACADIA QUEST:

The classic experiential scavenger hunt returns for the eighth year with the Acadia Sensory Quest! The 2015 Quest will challenge teams to explore the sights, smells, sounds, and feel of Acadia to complete the Quest, earn their Quest badges, and be entered in the grand prize drawing in November. You will gaze at the starry night sky, sniff flowers in gardens, listen to waterfalls, and dig in the sand. This year the Quest will make use of more than 100 new interpretive wayside signs in the park, including the Jesup Path's new Sensory Trail. In addition, we added a Speed Quest designed for visitors who are in Acadia for as little as two days. Acadia Quest challenges are designed to appeal to all ages and ability levels.
"Thank you for organizing this program [Acadia Quest]! It was such a fantastic way for us to come and explore Acadia. We really appreciated the hiking guide and just had an amazing experience. Acadia's now one of our favorite places!" —2013 Quest Team "The Daring D's"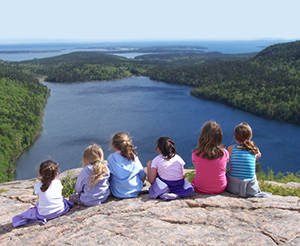 HOW IT WORKS
Families, friends, relatives, or mentors create a team. Teams must include one child under the age of 18 and one adult aged 18 years or older.
Friends of Acadia provides each team with an Acadia Quest packet, which includes the Quest Card. Complete and document activities in Acadia National Park as indicated on the Quest Card to qualify for prizes. You will need an Acadia National Park Pass or the National Park Pass in order to participate in Acadia Quest.
HOW TO GET STARTED
Teams can register anytime throughout the season beginning May 15. Acadia Quest ends on November 13 and all registration forms and documentation must be entered at that time to be eligible for prizes.
GET YOUR ACADIA QUEST PACKET & PARK PASS
Now you need the Acadia Quest packet and a park pass. You will find more detailed program information in the packet to begin your adventure. To obtain the packet and pass, you may print the packet online now or pick up a packet in person at the following locations. You many also purchase a park pass at the same locations:
Click Here to Print an Acadia Quest Packet!
Or pick up a packet and a park pass at these locations, which are open daily:
Thompson Island Information Center: May 15 – October 12, 8 am- 4 pm
Hulls Cove Visitor Center: May, June, September, and October: 8:30 am – 4:30 pm, July & August: 8 am – 6 pm
Village Green Information Center: June 1- October 12, 8 am – 5 pm
Sieur de Monts Nature Center: June – early October, 9 am – 5 pm
Have fun exploring your senses in Acadia National Park! Note: The Quest Lore (background information for the Quest) is still being revised for 2015.

Questions about Acadia Quest? Contact us at acadiaquest@friendsofacadia.org or 207-288-3340