Acadia Quest is a series of youth- and family-oriented experiences in Acadia National Park that encourage youth and families to explore, learn, and protect national parks and other conserved lands.
THE 2015 ACADIA QUEST: Coming Soon!

The classic experiential scavenger hunt returns! What better way for kids and families to explore Acadia together than through the fun and varied challenges of the Acadia Quest. The 2015 Quest is still in the planning stages, but we can tell you this: some new adventures are in store for veteran Questers, and great challenges for all ages and ability levels.
In 2014, the Acadia Quest Featured the "Uniquely Acadia Edition."  Acadia National Park offers many destinations and activities well-suited to families. From the historic trail system and carriage roads, to the magnificent granite-topped mountains and salt- and fresh waters, to the museums and other historical sites, Acadia's unique treasures are accessible to visitors of all ages and experience levels. In 2014, teams "collected" experiences on Acadia's trails, carriage roads, water bodies, and unique destinations to complete the Quest, earn their Quest patch(es), and be entered in the grand prize drawing the first weekend in November.
"Thank you for organizing this program [Acadia Quest]! It was such a fantastic way for us to come and explore Acadia. We really appreciated the hiking guide and just had an amazing experience. Acadia's now one of our favorite places!" —2013 Quest Team "The Daring D's"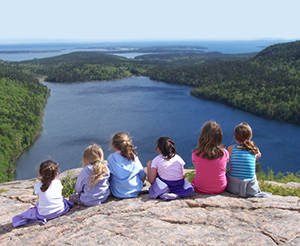 HOW IT WORKS
Families, friends, relatives, or mentors create a team. Teams must include one child under the age of 18 and one adult aged 18 years or older.
Friends of Acadia will provide each Quest team with a Quest card. Complete and document activities in Acadia National Park as indicated on the Quest Card to complete the Quest and qualify for prizes. Teams will document each activity with a photo, sign rubbing, or other information to prove they completed it.
HOW TO GET STARTED
Acadia Quest registration will open in May, 2015. Please check back in May to get started!
Questions about Acadia Quest? Contact us at 207-288-3340 or AcadiaQuest@friendsofacadia.org.