Saturday, November 1, 2014, 8:00 a.m. – 1:00 p.m.
Each fall, hundreds of enthusiastic volunteers descend upon Acadia's historic carriage roads to rake leaves and clear drainage ditches from miles of carriage roads in preparation for winter. The well-coordinated volunteer effort, now in its twenty-third year, focuses on areas where clogged drainage ditches and culverts could result in significant damage to road surfaces during the freeze-and-thaw cycles of a coastal Maine winter. Perhaps the most important volunteer event of the year in Acadia, Take Pride in Acadia Day is key to the park's ability to maintain the carriage roads in pristine condition.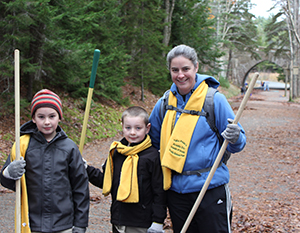 After the morning's work, crews will return to park headquarters for a hot lunch—the event's traditional "CCC" meal of chili, cornbread, and cider (plus an extra "C" of cake). During lunch, teams completing the Acadia Quest will be honored and winners for the Quest grand prizes will be drawn.
Preregistration is required, for planning purposes and to ensure that all volunteers can be accommodated. Register early—this event fills to capacity every year. Individuals and families can register online for Take Pride in Acadia Day.
Groups (school, scouts, etc.) should contact Paige Steele at 207-288-3340 or paige@friendsofacadia.org to register. UMaine volunteers should contact Lisa Morin at the Bodwell Center, 207-581-4194 or lisa.morin@maine.edu.
2014 Event Sponsors:
Acadia Mountain Guides
Bar Harbor Bank & Trust
Birch Bay Village
The Bluenose Inn
Chapter Two
The First
Galyn's
The Knowles Company Real Estate
Window Panes
Learn more about Friends of Acadia's work to protect Acadia's carriage roads »