Saturday, November 7, 2015, 8:00 a.m. – 1:00 p.m.
Each fall, hundreds of enthusiastic volunteers descend upon Acadia's historic carriage roads to rake leaves and clear drainage ditches from miles of carriage roads in preparation for winter. The well-coordinated volunteer effort, now in its twenty-third year, focuses on areas where clogged drainage ditches and culverts could result in significant damage to road surfaces during the freeze-and-thaw cycles of a coastal Maine winter. Perhaps the most important volunteer event of the year in Acadia, Take Pride in Acadia Day is key to the park's ability to maintain the carriage roads in pristine condition.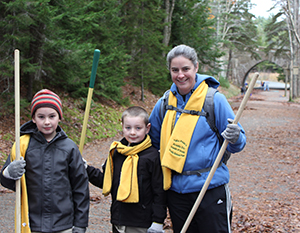 After the morning's work, crews will return to park headquarters for a hot lunch—the event's traditional "CCC" meal of chili, cornbread, and cider (plus an extra "C" of cake).
THANK YOU to everyone who helped out with Take Pride In Acadia Day 2014.  More than 350 people turned out to rake leaves and prepare Acadia's Carriage Roads for winter.  Considering the season's first nor'easter moved in Saturday night and Sunday, it was a good thing all those leaves got raked.  The morning was chilly and the lunch was chili (from the Quietside Café in Southwest Harbor) but there were warm smiles all around and approximately 9½ miles of carriage road drainage ditches got raked in 21 locations. From the weekday setup and preparation to Saturday's registration, raking and cleanup, a lot of work was accomplished.  It was a real team effort that involved every division in the park and the staff of Friends of Acadia.  We thank you all.
2014 Event Sponsors:
Acadia Mountain Guides
Bar Harbor Bank & Trust
Birch Bay Village
The Bluenose Inn
Chapter Two
The First
Galyn's
The Knowles Company Real Estate
Window Panes
Learn more about Friends of Acadia's work to protect Acadia's carriage roads »