Welcome!

Acadia Quest is a series of outdoor experiences in Acadia National Park that encourage youth to explore, learn, and protect national parks and other conserved lands. 2018 marks the 11th year, with the Acadia Quest: Pathmakers Edition focusing on Acadia's historic trails and the people who make them great. The team activities this year are chosen by featured trails crew. Challenges will appeal to all ages. A Speed Quest is designed for visitors who are in Acadia for as little as three days. The program is free and open to all, but you will need a park pass to participate.
How it Works
1. Form a team: Families, friends, relatives, or mentors create a team. Teams must include one child under the age of 18 and one adult over 18 years of age.
---
2. Register your team:
Registration is not required for teams to quest. If you would like your team to be eligible for prizes, your team will need to register. Teams can register for the 2018 season from June 15 – November 15.
---
3. Get the Quest Card: Friends of Acadia provides teams with a paper packet, which can be downloaded now. You may also pick up an Acadia Quest packet at the following visitor centers in Bar Harbor, which are open daily through mid-October:
Download your Acadia Quest Packet here!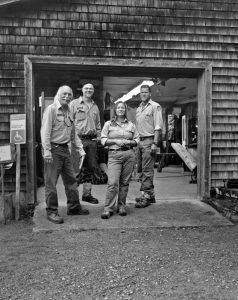 Hulls Cove Visitor Center
Thompson Island Information Center
Village Green Information Center
Due to unforeseen circumstances, the digital version of Acadia Quest will not be available for the 2018 season on the Chimani, Acadia National Park app. We hope to offer the digital version for the 2018 season.
---
4. Get a Park Pass: You will need an Acadia National Park Pass or the National Park Pass to participate in Acadia Quest. Debuted for Acadia's second century, visitors can now purchase their park pass online. You many also pick up a park pass at the locations above.
Purchase your Park Pass online!
_______________________________________________________________________
5. Track your Quest: Complete and track activities in Acadia National Park as indicated on the Quest Card to qualify for prizes. If you are questing on the Chimani app, you will document by collecting green Acadia Quest badges on the app and may email a screenshot of the badges. To complete the full quest for 2017, you need to do 6 activities to be eligible for a park pass, Acadi Quest patches, and outdoor gear raffle. To complete the speed quest, do 3 activities to be eligible for patches.
---
6. Get Prizes: Acadia Quest ends on November 15. All registration forms and documentation must be entered at that time to be eligible for prizes. Prizes are sent to teams at the end of the year.
---
Questions about Acadia Quest? Contact us at acadiaquest@friendsofacadia.org or 207-288-3340
To learn more about the artist who took portraits of the trails crew, visit:
To learSave
Save