Friends of Acadia's Annual Meeting will be held via Zoom and Facebook Live on Wednesday, July 8, 2020 at 4:00 p.m.
FOA members and the public are invited to attend. All are welcome. Click here or join us on our Facebook page at 4 p.m. on July 8 to attend the meeting:https://us02web.zoom.us/s/87026288626
Be a part of the Annual Meeting live broadcast by participating in our "word cloud" survey. Click here to answer a quick question and tune in to see the most popular responses appear on screen at the meeting! Link: https://bit.ly/3isb4mR.
The winner of the Marianne Edwards Distinguished Service Award will be announced. The Marianne Edwards Award for outstanding accomplishments in helping Friends of Acadia and the park execute their respective missions is Friends of Acadia's highest honor and is named for our founder and the award's first recipient.
Other highlights of this year's meeting include comments by Senator Angus King and an exciting announcement about Acadia National Park by Superintendent Kevin Schneider. A copy of the 2019 Annual Report is now available on our website.
In honor of Acadia Week and the anniversary of the park's founding, FOA Board member Julie Banzhaf-Stone and husband Steve Stone have committed to a 1:1 match on all donations next week until we reach our goal of $20,000. Check your inbox Monday for a link to give!
In addition to the Annual Meeting, we hope you will join us as we celebrate "Acadia Week" all next week with special lunchtime broadcasts every day at noon from the Bar Harbor Inn. Each broadcast will feature a different guest who has made an impact on Acadia National Park. Tune in to our Facebook page to watch.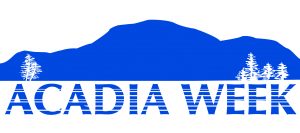 Acadia Week 2020 Guest Interview Schedule (on Facebook LIVE)
Monday, July 6, 12:00
Stephanie Ley – Cairns/ summit stewards
Julie Banzhaf Stone – If you Love Acadia
Tuesday, July 7, 12:00
Dana Petersen – Stewardship, Seaside path, trail work
Julie Veilleux – Business support
Wednesday, July 8, 12:00
Becca Stanley – Visitor statstics
Lisa Horsch Clark – George B. Dorr Society
Thursday, July 9, 12:00
David MacDonald – FOA's role in protecting and preserving
Brian Henkel – Wild Acadia
Friday, July 10, 12:00
Kevin Schneider – Acadia National Park future/outlook
Laura and or Vassar Pierce – Benefit re-imagined