Greening Acadia:
Advancing Sustainability in the Park
---
Donate to the Greening Acadia Fund
---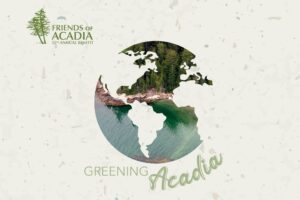 National parks were founded on the idea that we must preserve and protect our country's greatest natural and cultural resources, both now and for future generations. This helped establish the National Park Service as a model for environmental stewardship.
In that spirit, the Friends of Acadia 2021 Paddle Raise, Greening Acadia, aims to help the park accelerate its efforts to implement sustainable operations and reduce emissions, ensuring that Acadia is continuously improving its environmental performance.
Becoming Climate Friendly and Energy Smart
Greening Acadia establishes a fund for Acadia National Park to purchase electric vehicles and equipment, and to make capital improvements to reduce the park's carbon footprint and emissions.
Replacing vehicles and equipment with electric or more fuel-efficient options will allow Acadia to increase efficiency and add a margin of excellence by improving environmental performance, reducing utility costs and transportation expenses.
Plans include:
Installing solar panels on park buildings, starting with the Acadia Gateway Center and the new Maintenance Building.
Converting National Park Service vehicles from gas powered to electric.
Installing more electric vehicle charging stations in the park for both park staff and visitor use.
Converting smaller gas-powered equipment such as lawn mowers, chain saws, and weed whackers to electric.
Exploring the feasibility and viability of introducing electric buses to the Island Explorer bus service.
Ultimately, our goal is to empower Acadia to be strategic and forward-thinking regarding its sustainability efforts, using the Greening Acadia fund to spur new projects, while leveraging federal investments to make each Friends of Acadia dollar go further.
By working together, we can help mitigate the negative impacts of climate change and preserve the park for generations to come.
Please join us for the 2021 Friends of Acadia Annual Benefit and participate in the Paddle Raise for Greening Acadia in our virtual auction on Saturday, Aug. 14 at 7 p.m. Register for the Annual Benefit here.