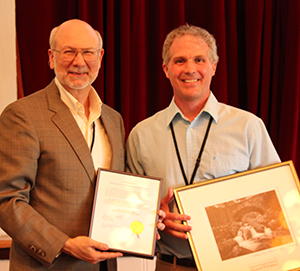 BAR HARBOR – More than 225 members, volunteers, and supporters of Friends of Acadia gathered in the Bar Harbor Club's ballroom on Thursday, July 11, for the organization's Annual Meeting. Remarks by FOA board chair Ed Samek, Acadia National Park superintendent Sheridan Steele, FOA conservation director Stephanie Clement, and FOA president David MacDonald all celebrated the many accomplishments of 2012, while emphasizing the need to look ahead and find creative and big-picture solutions to new challenges arising for Acadia as the park nears its 2016 centennial.
A highlight of the event was the presentation of the Marianne Edwards Distinguished Service Award, Friends of Acadia's highest honor, to outgoing Friends of Acadia Board of Directors member Michael Siklosi. While making the presentation, David MacDonald noted Siklosi's mission-focused sensibility, his appreciation for governance issues, and his "his generous concern for the people and relationships that are the heart of this organization's culture and tradition of success." Siklosi had served on board for nine years, during that time chairing the Governance/Nominating Committee. The Marianne Edwards Award is named for the organization's late founder.
Other awards given at the meeting were the Conservation Colleague Award to the Trenton Marketplace IGA and owner Kim Murphy for longtime support of Friends of Acadia activities in Trenton including the Island Explorer, the Trenton Community Trail, and the Earth Day Roadside Cleanup; the Distinguished Public Service Award to David Manski, ANP Chief of Resource Management, for more than two decades of dedicated partnership with Friends of Acadia for the benefit of Acadia's natural and cultural resources; and the Community Conservation Award to photographer Howie Motenko for his inspired community art project, "Painting Bridges."
After the meeting, attendees enjoyed a convivial reception outside on the Bar Harbor Club patio.